I have always been intimidated by the famed jungles of central India such as Satpura National Park, NOT due to their widely publicized but rarely seen tigers, but due to the extreme temperature of the region. It doesn't seem to cool down much even in the winters and I would never even have planned a visit in April with the mercury already crossing 40 degrees. So, when I got an invite by the Forsyth Lodge to visit the Satpura National Park, I was hesitant. But the itinerary they promised seemed action-packed, and I had nothing better do anyway. So, I decided to go for it. A lot happened in those four days and three nights and I have a feeling that this will be one of my longest posts. In order to keep things under control and not to lose out on details, I am trying out a diary-style narration with a blow-by-blow account.
10th April
5 AM
The early morning flight meant a sleepless night. Also, our destination in Hoshangabad district was still 160 KMs away from the Bhopal airport. I met other bloggers, Neelima, Joshi Daniel, and Roxanne, who were to be with me for the rest of the trip. It was noon by the time we reached Forsyth Lodge and I immediately fell asleep. Nothing was scheduled at that point anyway because the activities are possible only in the morning and evening due to extreme heat.
12.30-4 PM Sleep-Eat-Sleep
4.30 PM
A jeep safari around the ecozone outside the core area was designed to give us an idea about the things to come. We drove through very dry looking forests. Most of the trees were still denuded and struggling to recover whatever they lost in the winter. However, Mahua trees were in full bloom and their intoxicating fragrance apparently lures in humans and wildlife alike. Humans, of course, go a step further to make liquor out of Mahua nectar but let's discuss it later.
6.30 PM
Something moved in the bushes. The cars have parked near a small pond, made for the animals to drink water and so it is expected to be a potential sighting spot. My imagination was running wild and I was prepared to get a glimpse of the big one, and then be eaten by it. However, the only thing that eventually came out of the bushes was a barking deer. It drank water, din't even bark, and went away. There were some birds too but it was too dark for photography.
7.00 PM
A pair of eyes shone brightly in the dark, terrifying everyone. But it turned out to be an Indian hare that was even more terrified to even wait for a photograph.
11th April
5.30 AM
I dreaded the heat so much that I hadn't brought any warm clothing but the morning turned out to be extremely cold. Still, we had to move on because even the animals like the cool mornings to hang out. We drove to the bank of the river Denwa, and crossed the river, paid entry fees, and got into the jeeps owned by the forest department, along with an official guide and a driver. The sunrise was beautiful too.
6.00 AM
Wild boars, spotted deer, sambar deer, gaurs, and other such herbivores have become used to visitors and they can be easily spotted. Also, easily visible are various water birds such as storks, kingfishers, herons, and egrets of various types. Some spotted owletts were also present but I keep seeing them wherever I go.
6.30 AM
The guide suddenly asked the driver to stop and drive back a few feet. "Tiger!", He whispered. I thought I was hallucinating, but then I hadn't consumed anything questionable of late. But there it was, one of those 2226! It had killed a sambar deer and was enjoying an early brunch. With my limited zoom, I tried hard. Most of the images were disappointing, but at least I saw it and I'd never even come close before in places like Namdapha, Kaziranga, and Corbett.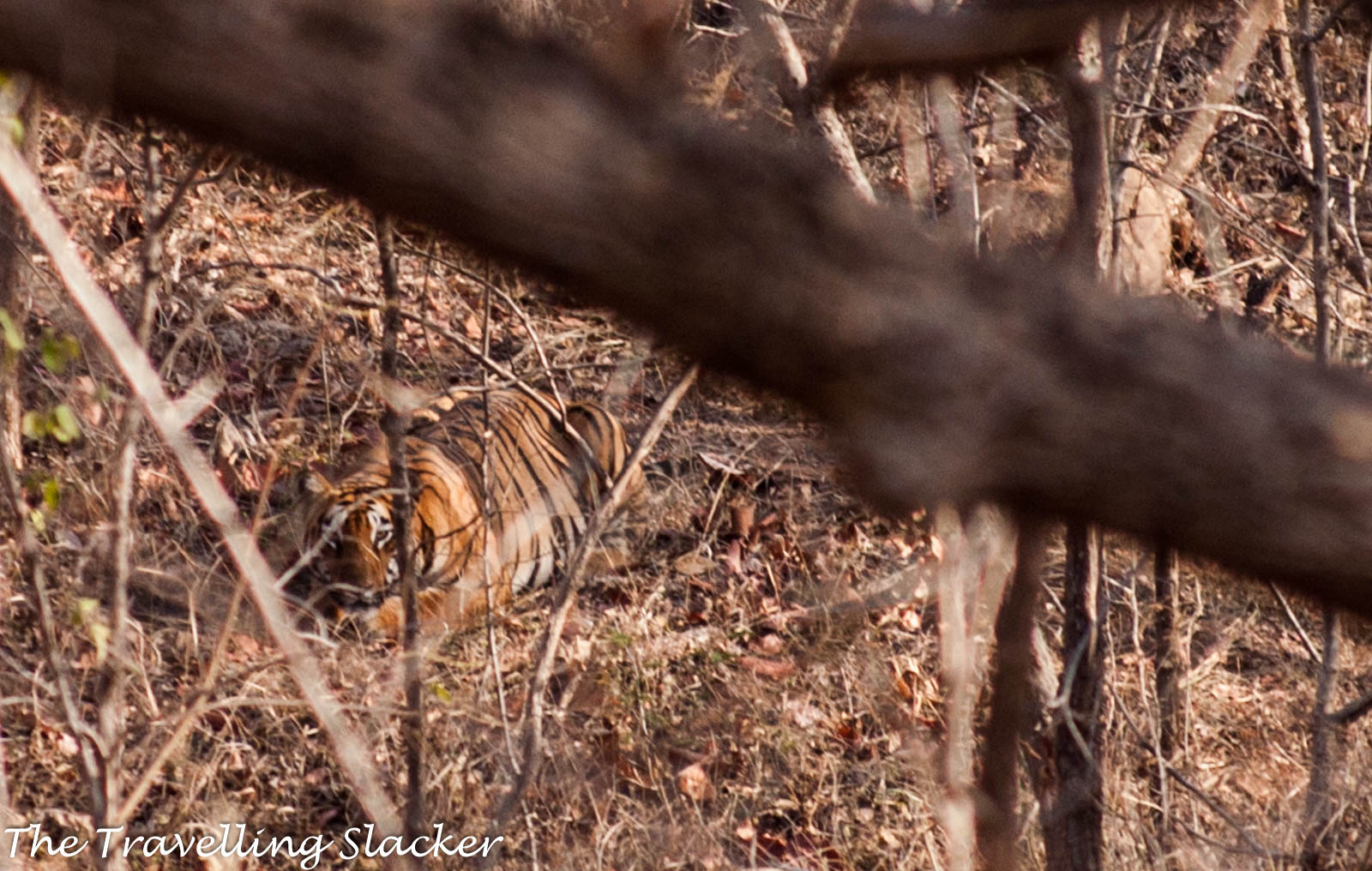 7.00 AM
After that point, I felt very relieved. It felt as if I had achieved something in life although we would just have passed by it had the guide not spotted it. I started enjoying every sight that Satpura offered. That area of the forest was full of Kusum (Ceylon Oak) trees. New spring leaves of Kusum are scarlet, then they gradually become resplendent green after attaining an orange hue for a while. It was the perfect time to enjoy those colours and the sky seemed ablaze from certain angles.
8.00 AM
We had our packed breakfast at a forest camp. We clicked a photo of Aadhar Singh Ukey, the guide to spotted the tiger. He can be seen here on the right side, along with Deepak from Forsyth.
8.30 AM
With the temperature soaring higher and higher, we started our return trip. But there were several stoppages. Twice we stopped for a giant squirrel. It showed us some serious acrobatics but never paused for a good snap. But completely still was the crested hawk eagle and I was very happy about this sighting because I spotted it even before the guide and asked the driver to stop. An Indian Roller was nearby too.
8.45 AM
The car stopped and the guide ask us to spot the bird while pointing to the ground. There was a nightjar, one of the few creatures of night that can be seen in broad daylight. But it was so perfectly camouflaged that it took some time to spot. On the positive side, it is overconfident about its camouflage and so it does not fly away easily when human beings come close. As it turned out, Satpura is full of them and we saw them many more times over the next couple of days.
11AM-3.30 PM Sleep-Eat-Sleep
4 PM
Now was the time for a canoe ride along the river Denwa, which seemed as unpolluted and soothing as Chambal, one of my favourite rivers in the Indian plains. It is not a coincidence that this river also supports a large population of Indian skimmers, just like the Chambal Sanctuary.
4.30 PM
The river is primarily dominated by river terns. While other birds maintained a distance from human beings, the terns were all over, flying, diving, and catching fish.
5.00 PM
To be honest, initially I was struggling to differentiate between terns and Indian skimmers. But finally, I realized that the skimmers have much larger and brighter beaks due to their skimming habits. The guide turned boatman reached a strategic location from where we could get a good view of the skimmers.
6.00 PM
Some other sightings included thick-knees, black-headed gulls, and woolly necked storks, and a few others I can't exactly remember. Overall, it was a good, short ride with enough sightings. The sunset beyond the river was delightful too.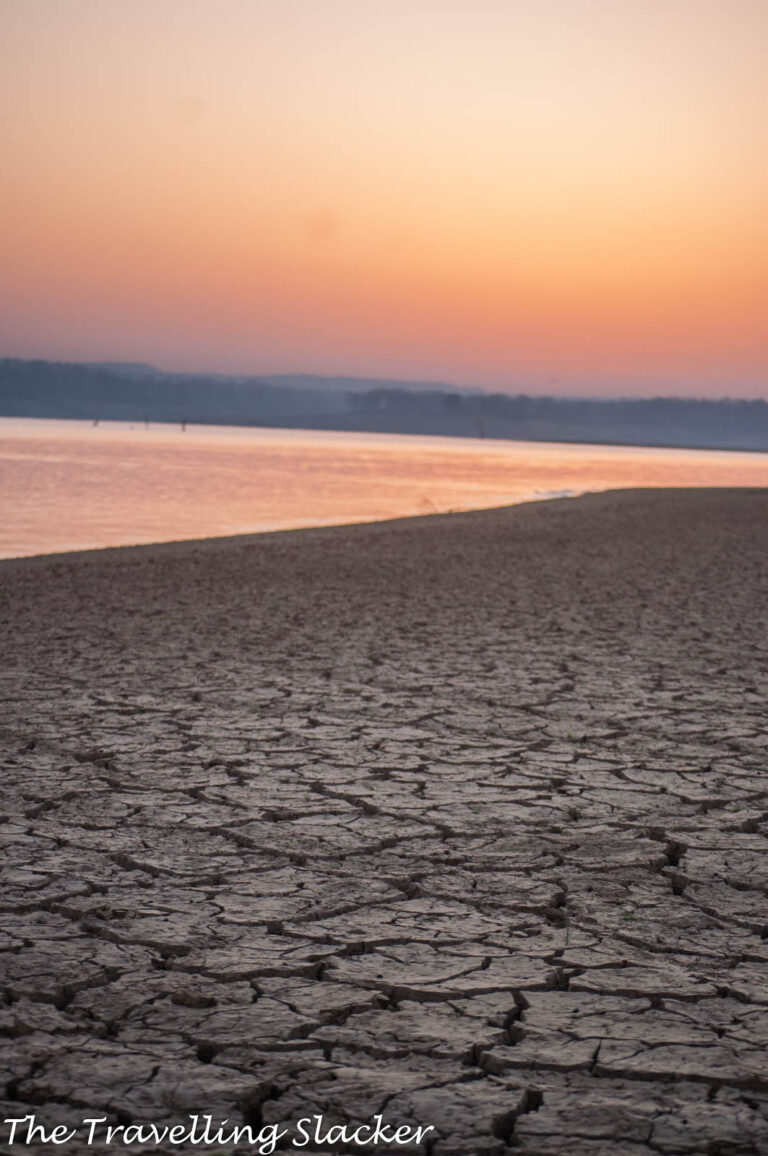 6.45 PM
I've always had a great desire to spot and click hornbills and we were told that a couple lives nearby. We did see them while returning but it was too dark and all I got was this silhouette.
8.00 PM
A few good pegs of Mahua liquor. Source won't be disclosed. Good ambiance made it more effective.
12th April
5:15 AM
We started even earlier, hoping to catch more animals. Guides touring here with various parties keep contact with each other, mostly using their BSNL phones (Other networks don't work here). In case one of them sees anything, he immediately informs others. So, our guide also got the news of a sloth bear nearby and we rushed towards that spot. After some effort we did manage to catch a glimpse, mostly of its shapely derrière. We were told that the bear sightings are supposed to be very easy here. However, the Mahua season may have something to do with their disappearance in recent weeks. Too much intoxication probably make then recede into denser corners and sleep more. No photographs of the bear.
6.30 AM
A series of ominous cries shook the jungle. Langurs, birds, and various other animals joined in. After meandering for a while we had finally stopped to catch a glimpse of some fish that looked like a snake at a small pond. But those calls alerted the driver and he started driving like there is no tomorrow. After a while, we reached a point where we saw a sambar deer and a few langurs. However, the guide cleverly followed the line of sight of the deer and predicted where the leopard might be. The driver changed his directions and started driving again. After a couple of minutes the car came to a screeching halt again and there it was! I could see it but it was even further than the tiger was the previous morning. It remained there for a few minutes before slowly walking away. I tried several times but none of the photographs were satisfactory.
7.00 AM
Saw a crocodile in a pond. But only the head was visible. It refused to come out of water.
7.30 AM
Spotted a brown fish owl. I have seen other owls before but this was the first time I managed to get a clear photograph of a large owl (Not counting the very prevalent spotted owletts).
8.00 AM
We reached the hilltop. It is a natural viewpoint with panoramic views due to its elevation. These hills have been formed by 65 million-year-old volcanic rocks. There are no large trees here and the extreme heat made it impossible to last long here. We soon had to leave the place and run for cover.
8.30 AM
We stopped at the elephant camp for breakfast. While there are no wild elephants here, there are a few domesticated ones used for various purposes. Visitors can feed them fruits too.
8.45 AM
Sirkeer Malkoha. Another noteworthy sighting. Apparently, it is not very frequently seen here.
9.00 AM
Here I must also express my fascination for the Indian Ghost Tree (Sterculia Urens). Those pale white trunks are a sight to behold. They would be called White Walkers if they learn to move.
9.30 AM
We took some time out to visit the local village. The villages are modernizing nowadays owing to the tourism boom. TV antennas can be seen everywhere and many of them own vehicles. But signs of their ancient traditions can still be seen. Most of these people were probably aboriginal inhabitants of these lands. The pre-historic rock paintings of Bhimbetka are not very far from here and one can guess that the ancestors of these people might have created those ones. We were guided by Varsha, a local girl who is somewhat famous in the area because she taught herself to ride the horse. We had seen her riding the horse at a breakneck speed the previous evening. She took us to several houses including her own and gave us a glimpse of their lives.
Most of the houses seem to be collecting and drying Mahua flowers. As mentioned earlier, the Mahua trees are prevalent here and play an important part in the local economy, so much so that they generally don't cut a Mahua tree. Villagers go inside the jungle to collect the fallen flowers and they are sold in the markets of the nearby towns. From liquor to oil, it can be used for many purposes.
11AM-3.00 PM Sleep-Eat-Sleep
For a while sat at the backside verandah of my cottage, hoping to see stray animals. But the heat drove me inside very soon.
3.30 PM
We set out early for a longish drive. We crossed the forests of ecozone to reach a camping site on the bank of the river. We also crossed a small shrine of a local deity called Jamanidev.
4.30 PM
I noticed a large bird on the river. It was probably drinking water. I walked through the treacherous soft sand on the banks to get as close as possible but the bird had its back towards me. After a point it suddenly registered my presence and started flying away, but not before I got a moderately clean snap. It was apparently a honey buzzard according to the guide. A wooly necked stork was visible too.
7.00 PM
We watched the sunset at that site and came back. In between, the guide spotted a nightjar again, with his torch. This time it was awake and the eyes were open. But still it was nonchalant even though it was disturbed by the torchlight. For a while, I wondered if we should keep disturbing it with the light but considering its lack of response, I think it was fine with it.
13th April
6.00 AM
Finally, just before leaving, we had a walking safari, not very far from the entry point. We walked around for a couple of hours, while consistently hearing alarm calls of langurs and finally spotting fresh pug marks of a leopard. We never saw it, but it was nearby and probably it saw us and ran away. After all, what can be scarier than a homo sapiens? This was practically the last action of the trip.
——-
So, before I wind up, I'd like to discuss a point or two. Firstly, the good people at the Forsyth Lodge took a lot of effort to explain that Satpura has many attractions beyond the tiger and it does. The reason for that is because tigers are generally elusive and you don't see them too often even at the places best known for tigers. However, tiger was the first significant thing I saw out there, followed by a leopard and a bear. So, I just want to tell everyone that don't get disappointed if you don't see the tiger. Feel free to curse me for the incredible stroke of luck I had but rest assured that there is much more to see and do at Satpura.
I do understand the attraction for Tigers. But if that is your primary concern, there are other options too. I recently saw this blog on Ranthambore National Park. So many sightings at one go is hard to believe.
Anyway, what is noteworthy is that Satpura National Park is a comparatively lesser-known wildlife destination in Madhya Pradesh, the land of Kanha and Bandhavgarh. While the jungle is as primal as it gets, the tourism thrust in Satpura has started only in the last decade or so. As a result, the jungle is much less populated and at times, in certain corners, you can be the only person in the jungle (along with the guide). Compared to the virtual traffic jam caused by tourist jeeps in some more famous national parks, this can be a really delightful experience. It can also be combined with a visit to nearby Pachmarhi, sort of hill station and a British era cantonment town and even Bhimbetka Rock Shelters, a UNESCO World Heritage Site somewhere between Bhopal and Satpura.
The other noteworthy part at Satpura is sustainability initiatives by the authority involving local people. There used to be villages inside the core area too but they have now been moved out and settled in the periphery of the park. However, they have been integrated with the developing tourism ecosystem. So, many of the locals work as guides with the forest department. The few we interacted with seemed pretty happy with their lives and this is not something most people can say nowadays.
Satpura National Park Travel Guide
How to Reach Satpura?
The nearest major cities with Airports for Satpura are Bhopal in Madhya Pradesh and Nagpur in Maharashtra.
The nearest railway stations are Itarsi, Sohagpur, Pipariya & Hoshangabad.
There are 3 entrances for Satpura National Park are the one near Pachmarhi hill station, one at Madhai Entrance Gate about 19kms inside from Pipariya-Hoshangabad road, and the third near Tawa Dam but that is only for those staying at MP Tourism: Tawa Resort located on Tawa Dam. We took the 2nd one, that is the Madhai Gate.
Since the stay options are deep inside the forest, public transport is not an option. You will have to hire cabs or take your vehicle.
Where to Stay at Satpura?
Satpura has many great jungle resorts. I stayed at Forsyth Lodge as described above and had a great experience.
How many days to stay?
One day is not enough for Satpura. To completely enjoy the jungles you need to do multiple safaris and also need to have some time for boating in the river. Try to have at least two nights and three days.
Which activities are involved?
Jungle safari using jeeps is the most popular form of exploring Satpura. We even did a night safari. You can also go for a short hike with the guides. Additionally, you can visit the villages of local indigenous people, take boat rides at river Denwa, and make detours
Cto nearby attractions such as Panchmarhi hill station and prehistoric cave paintings of Bhimbetka, which is a UNESCO World Heritage Site.
Best Season to visit Satpura?
Satpura usually gets closed for the summer and rainy season between May and September. The normal season is between October and April. While the winters are the most popular, we visited in April and had some delightful colours.
Phone and data connectivity in Satpura?
Connectivity will be an issue inside the jungle. So, keep that in mind.