After visiting Tipam with The Gypsy Chiring, the next logical destination was the Namphake Village. It was nearby and we quickly rode through the countryside to reach it. However, before getting into the village, let me just explain the background of this place and why it is interesting or important.
Namphake is a Buddhist village inhabited by Tai Phake community. Now, Tai is a large linguistic group that has many branches. They originated somewhere in the region covering Southern China and SE Asia and migrated to nearby areas including Myanmar and NE India. The most famous of them is of course the Thai people of Thailand while in Assam the Ahoms are the most populous and well-known Tai group as they ruled the region for a long time.
However, there are many other small but distinct groups that exist and there are five different Tai groups that arrived here from Myanmar by crossing the Patkais. These include the aforementioned Ahoms, Tai Phake, Tai Aiton, Tai Turung, Tai Khamti, and Tai Khamyang. Not all of them arrived at the same time but they came here gradually, during different waves over a period of 5-6 centuries. They now inhabit various parts of eastern Assam and Arunachal Pradesh.
Ahoms went on to rule Assam and most of them became Hindus but the other small Tai Communities have maintained their separate identities and they usually follow Theravada Buddhism and have close contact with Myanmar and Thailand. That's why monasteries and pagodas of various sizes can be seen in this region. The giant Golden Pagoda in Namsai is famous but there are many others. My destination Namphake village is also built around a monastery.
We reached the village soon and saw the monastery. Before entering the monastery, we decided to explore the rest of the village, which is located on the bank of Burhidihing, one of the major tributaries of Brahmaputra. On the opposite side of the monastery, we saw a biggish, two-storied building.
Taiphake Museum: A Heritage House
We went nearby and soon figured out that it is sort of a folk museum. It's still a work in progress but we were allowed to go inside. Traditional items used by the community have been preserved here along with some historical artifacts.
It soon became evident that the locals in this village are serious about preserving their heritage and also promoting tourism. We talked to the person there, who introduced himself as Ngikya Weingken. He informed us that one can also stay in the village and there's provision for that. He also showed us some books that the community worked on including Tai Language books, an attempt to reconnect to their origins. Everyone speaks Assamese here naturally, but they have kept the connections alive.
Namphake Monastery
After visiting the Museum, we finally came to the Monastery. At this point, one needs to know that the Buddhism practiced here is Theravada, the one that you'll find in SE Asia, or Sri Lanka. So, it has a different aesthetic than the ones following Tibetan monasteries in Tawang or for that matter in other Himalayan areas of India.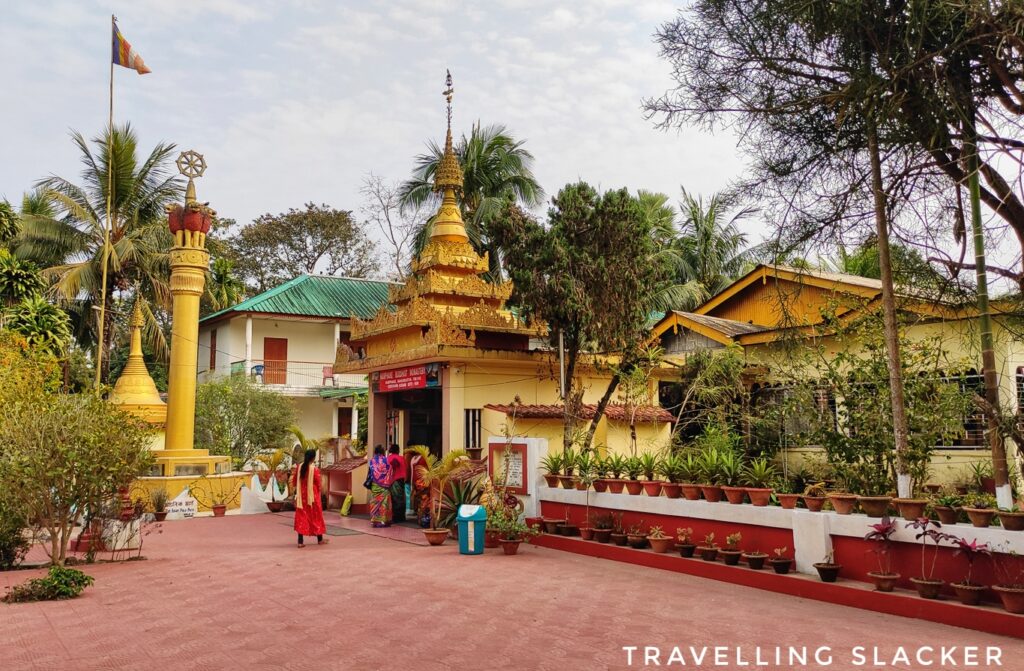 Replica of the Ashokan is a regular feature in such monasteries since Ashoka was a major patron who helped the initial spread of Buddhism. I don't know if it's so in other countries too but at least the ones I have visited, have it. They usually don't have larger-than-life statues that's more prevalent in the Tibetan Gompas. The usual prayer flags of those ones are replaced here by something else that I don't know how to describe but you can see.
Most of the additional installations here apart from the main monastery have been built through donations and they have been mentioned accordingly.
We spent around an hour at the monastery and left for Tinsukia. It was a quick visit but I'd like to believe that it was the beginning. There's a lot to explore as far as the communities are concerned. Visiting them during a festival would provide better visuals and that's the next plan. In fact, there are many other such villages and monasteries in the region that I will gradually explore.
Namphake Travel Guide
How to reach Namphake?
Namphake village is located in the Dibrugarh district. It is around 36 Km from Tinsukia town while the nearest towns are Naharkatia (15 KM) and Duliajan (18 KM). You can find regular buses and shared cars to these two towns from Tinsukia and then look for local transport to Namphake.
Can I stay at Namphake?
Yes. There are decent provisions for tourists in the village in case you want to spend more time although you can also visit it as a day trip.
What top see at Namphake?
The monastery is the main attraction here. You can also visit the museum in front of the monastery and if you have time, you can stay here for a day or two to learn more about the community.
What will be a good time to visit Namphake Village?
You can visit anytime but try to visit it during a festival such as Sangken (In April) for the best experience.