Schoolbooks mentioned something called barter as the most primal form of transaction, before the invention of currency. This is something that I generally do not get to see nowadays if I exclude the answers exchanged with the people sitting beside me in certain exams. I am sure it is true for most other people too. That is exactly why I had been trying to visit Jonbeel Mela.
For the uninitiated, Jonbeel Mela in Assam is a yearly fair where people from different ethnic groups gather and exchange goods without using any money, just like their ancestors used to do. The exact year of start is probably not known but it is a tradition that has been carried on by generations after generations of people in a tiny region in the Morigaon district of Assam for several centuries. In a not-so-developed state like Assam, primitive elements can be found not very far from modern urban centres. Jonbeel is barely 50 kms from Guwahati and only a couple of KMs from the busy town of Jagiroad by the side of the NH 37.
A brief history:
Let me just clarify a few points before proceeding. The fair is done under the aegis of the king of the Gova Kingdom belonging to the Tiwas. Of course the kingdom no longer exists in its original form but the King still remains, who is a descendant of the actual kings. But do not get mislead by the mention of royalty. This region is positively impoverished and they have no palace turned heritage hotels like those in Rajasthan.
As for Tiwas, they are one of those numerous Tibeto-Burman groups with their unique language and culture. They mostly inhabit the plains of Nagaon and Morigaon districts and the hills of Karbi-Anglong district in Assam. For a long time, their tiny principalities used to be the mediators between larger kingdoms of plains and hills. This fair in particular is a testimony of the same because this is where people from hills and plains meet for three days. Mainly Tiwas, Khasis, Jaintias and Karbis participate in the barter although everyone in the nearby areas visit the ground. The hill folks bring stuff than are grown in the hills only while they take back things that cannot be found in the hills. They just exchange the goods like aromatic rice, lac, pumpkin, wax gourd, arum (somewhat like cassava), pomelo (a large citrus fruit), wild banana flower (used as a vegetable), pepper, ginger, dried fish, handicraft items (made of bamboo mostly), traditional apparel, brooms (the grass that is used to make traditional brooms in India grows wildly in these areas) etc.
A bit too early:
This was second time in a row. Previously I'd arrived at Jabalpur one day earlier and missed boating through the marble rocks. I don't even feel like typing that story anymore. Here too, I reached too early. It runs for three days and on hindsight, the second day seems to be the most important. I was there on the first morning and people were only arriving. People from the hills travel in herds from a distance, build temporary bamboo tents for three days and also cook and sleep there for these days. They also participate in the community fishing activity in the nearby lake on the second day. When I arrived, most of the people were just beginning to unpack their goods. But what was already in abundance was also what disturbed me the most, which brings me to the ranting part.
Extreme Decadence:
So, what is the problem here? Well, the thing is, it is no longer untouched from the overwhelming crassness as well as lack of sensibility and common sense which has become the norm in Assam. The organizers have allowed random traders to set up extra shops in the Mela ground as well as along the road that approaches the ground. Those familiar sights that you see on any random fair including a Ferris wheel, a "maut ka kuan", a mini-circus, a Bollywood inspired titillating dance show, several eateries and shops selling electronics and factory-made apparels and utensils were all present. What about the actual fair? Well, they are there in the middle but they have been completely encircled and subdued by this assault of "mainstream" homogeneity. Some of them were playing the latest Hindi songs on loudspeakers… so loud that actual announcements by the organizers could not be heard.
Now, I can understand that in this day and age the organizers needed to make some extra money. I have nothing against other traders too. But what is the point of this fair if one finds the same things that one sees everywhere else? How long will they be able to preserve the unique nature and customs of these people? Even if you allow these people to set up shop, can't you position them at a distance so that they do not overshadow the main event? Can't they at least ask them to remove the loudspeakers? Is there no other way to monetize it (I say just collect 10 rupees entry fee from non-native visitors)?
I saw the local media covering it heavily. But everyone was sugar-coating it and nobody seemed to have bothered to point out these issues. After this experience, I am not very hopeful about the future of Jonbeel Mela. Visit it within the next few years before it disappears.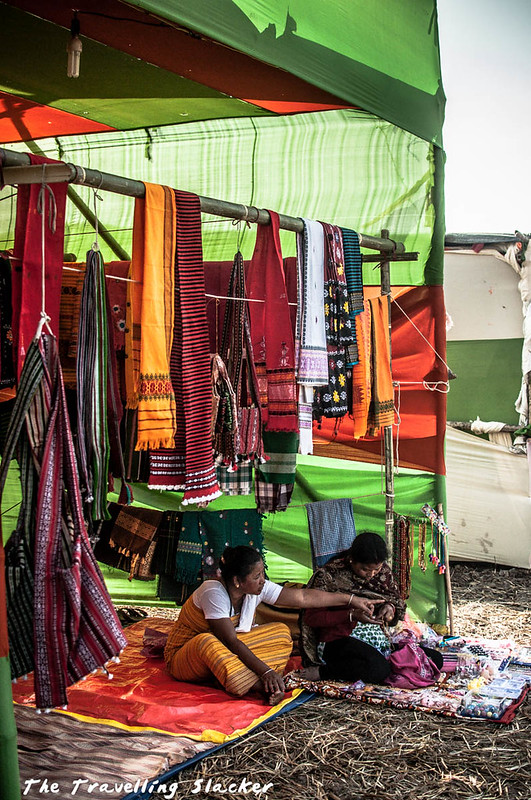 Jonbeel Mela Traveller FAQs:
What is Jonbeel Mela?
A primitive barter fair where people gather to exchange agricultural goods without using money. A tradition that is being continued for many centuries.
When does it happen?
It happens around a week after the Assamese festival of Magh Bihu.
Where does it take place?
It is a few KMs from Jagiroad, which is an important town on the National Highway 37 in the Morigaon district of Assam.
How to Reach Jonbeel Mela?
You can take a car or even take a bust to Jagiroad from Guwahati which is not more than 40 kms.