Feroz Shah Kotla? That stadium? Asked the auto driver.
It is nothing new. I have met a lot of people in Delhi who are only aware of the Feroz Shah Kotla Stadium but have never heard of the actual group of monuments that lent its name to it.
Anyway, these monuments are not new to me. So, I managed to reach the place soon enough on that January morning. On my previous visit, the spring had turned the trees sanguine. But this time, the landscape looked mostly dull although there were a high number of visitors. However, it seemed that most of them were not typical tourists but locals who are there for reasons other than history.
Firozabad: The Fifth City of Delhi
Feroz Shah Kotla (Kushq-i-Firuz), as the name suggests, was built by Feroz Shah Tughlaq (1351-1388 AD), who was known for his construction sprees and is credited with building many civic amenities all over the city. He was not merely building a fortress but a whole new city on the banks of the Yamuna called Firozabad. Those who are unfamiliar with history must know that Delhi has been built over a thousand years. Various areas of the current metropolis were occupied and built as new "cities" by different dynasties and rulers. In general, eight cities in Delhi have been identified by experts including seven historical ones and the current enduring one which can be considered the eighth (although there can be some lesser-known contenders that have not been included here, such as Kotla Mubarakpur). So, Firozabad was the 5th city of Delhi, which spread from the banks of Yamuna to the walls of Siri (present-day Hauz Khas, which was incidentally the second city in the above list).
The location the river banks was specifically chosen because they wanted to avoid water problems faced by the previous cities. As of now, the it is on exactly on the banks of Yamuna but that is because the river has changed course over the years, which is perfectly normal. Also, I must note that while many dynasties have ruled Delhi, Tughlaqs seem to be the best in terms of epic building activities (Take that Mughals). As many as three out of the eight cities have been built by them including this one and two more built by Feroz Shah's predecessors. I have already written about them. Check my Tughlaqabad as well as Jahanpanah posts.  On top of that, Muhammad bin Tughlaq also famously tried to move the capital to Deccan by building another city, which turned out to be a quixotic, and eventually failed endeavor. Here is a post on Daulatabad by Nirdesh Singh.
Palace Ruins
Coming back to the Feroz Shah Kotla of intriguingpresent, I think much of its former glory has been lost. Only three major structures remain standing (described in the sections below). Also, a lot of construction materials from here were taken from here to build newer cities, especially Shahjahanabad (what you call "Old Delhi") nowadays. So, nowadays, the first thing you see after entering is the ruins of the old palace. It includes the emperor's court, other offices, and most probably his residence too. All you have now is the remains of the pillars and walls but travellers from the medieval times have mentioned much more. Nevertheless, the surroundings are now well maintained and most people visit the complex just to sit in the lawn and soak up the sunlight in the winters. However, there are a huge number of kites or other such birds in this area who may try to snatch your food, not that I recommend eating in compound archaeological site anyway.
Ashokan Pillar & Pyramidal Structure
The most iconic building in the complex is the intriguing pyramidal structure and the Ashokan pillar atop it. Now, even to explain its existence, we will have to go back not just 700 years but almost 2300 years! Ashoka (268 BC -232 BC), one of the best known emperors from the subcontinent, had a habit of erecting gigantic sandstone pillars as well as rock edicts, with details of his activities and achievements. Couple of such pillars were noticed by Feroz Shah Tuqhlaq in Topra, near Ambala. His reasons for fascination towards these pillars are not known. The Brahmi inscriptions on the surface of the pillar were later deciphered by James Princep only in 1837. So, it is highly unlikely that Tughlaq knew what it was and what was written on it. Nevertheless, he spent significant effort and resources to bring the pillars to Delhi. As per some sources they used boats to bring them via EmperorYamuna. One pillar was erected near present-day Hindu Rao Hospital (Hindu Rao was a 19th century Maratha nobleman who got it restored after the revolt of 1857). The other one was installed here in Kotla but he not only erected it but built this pyramidal structure to support the pillar. (In case anyone is wondering about the minor Ashokan rock edict, that is located in a park at East of Kailash, near Kalkaji).
So, nowadays you have to climb up three storeys to reach the top, where the 2300-year-old sandstone pillar of Ashoka the Great still stands and even the inscriptions on the pillar are pretty clear although I don't know Brahmi. There is a theory that the top of the pillar once had the famous Ashokan Lion Capital, which is now the emblem of modern India. Even if it was there, it must have been destroyed before Tughlaq's discovery. Anyway, you can still see the same in places like Sarnath (near Varanasi) as well as Sanchi Stupa. Apart from the pillar, the structure also gives you good views of the other buildings of the complex as well as other buildings of Delhi including the aforementioned stadium. This time I was visiting in the winter, so everything was hazy. But a few years ago, I happened to be here in March, when the silk cotton trees had turned sanguine.
Jami Masjid
Jami Masjid is adjacent to the pyramidal structure. Although partially destoryed, it still remains a magnificent structure which looks best from the top of the pyramidal structure. Somehow I always end up clicking people climbing those stairs as I find those frames very photogenic. Timur (Tamerlane) also visited it during the sacking of Delhi and said to have been impressed by the structure. So, it seems like this was the only place he did not sack. Apart from being a major mosque, this was also the site of an assassination, that of Emperor Alamgir II in 1759. By that time the Mughals were already in their last stages and the East India Company was already all over India. So, I don't think this incident had a big impact in history.
Baoli
The final remaining structure in this complex is the baoli (stepwell). Delhi has many baolis but I like this one for its perfect circular structure. Originally it must have been the primary source of water for the city, but as is the case with all other baolis, it is also not in a very good shape. On top of that, due to some accident (or suicide as per some sources) a few years ago, it has been completely locked. The best view of the baoli is also from the pyramidal structure. You can try to get different angles from different floors.
Khooni Darwaza
Another notable structure here is the Khooni Darwaza (Gate of Blood), located not inside the complex but just outside, on a traffic island between the two lanes of the busy highway. It is a later structure built by Sher Shah Suri and is one of the few surviving historical gateways in Delhi. It gets this violent name because several violent executions and massacres have taken place here over the centuries. Some restoration seemed to be going on, so I could not really do much here. I have heard some stories by more imaginative people, who have "seen" things here, and they do fit well with its history but I don't really want to encourage those "haunted place" myths.
Generous Djinns
This is the other reason that makes Feroz Shah Kotla more interesting. I really did not want to use the reference of Djinns (some of you will identify more with anglicized term "Genie"… yes, like the one with Aladin) as they have been dominating every nostalgic piece on Delhi since the publication of Dalrymple's book. Nevertheless, it has to be done because it is an unavoidable part of the Feroz Shah Kotla experience. Kotla is always full of people, not too many tourists but a lot of locals. They are not particularly interested in history but they come here for the prayers. But who are they praying to?… yes… the Jinns!
Even before entering the compound, you can find roadside vendors selling incense sticks and other items, which are normal in front of dargahs or even temples but this is none of that. Yet, people come here to worship not any deity or saint but the Djinns and it is believed that they grant wishes. So, people also write their wishes in small pieces of paper and leave them there. In fact, the entire ground floor of the Pyramidal structure is dominated by Djinn worshippers.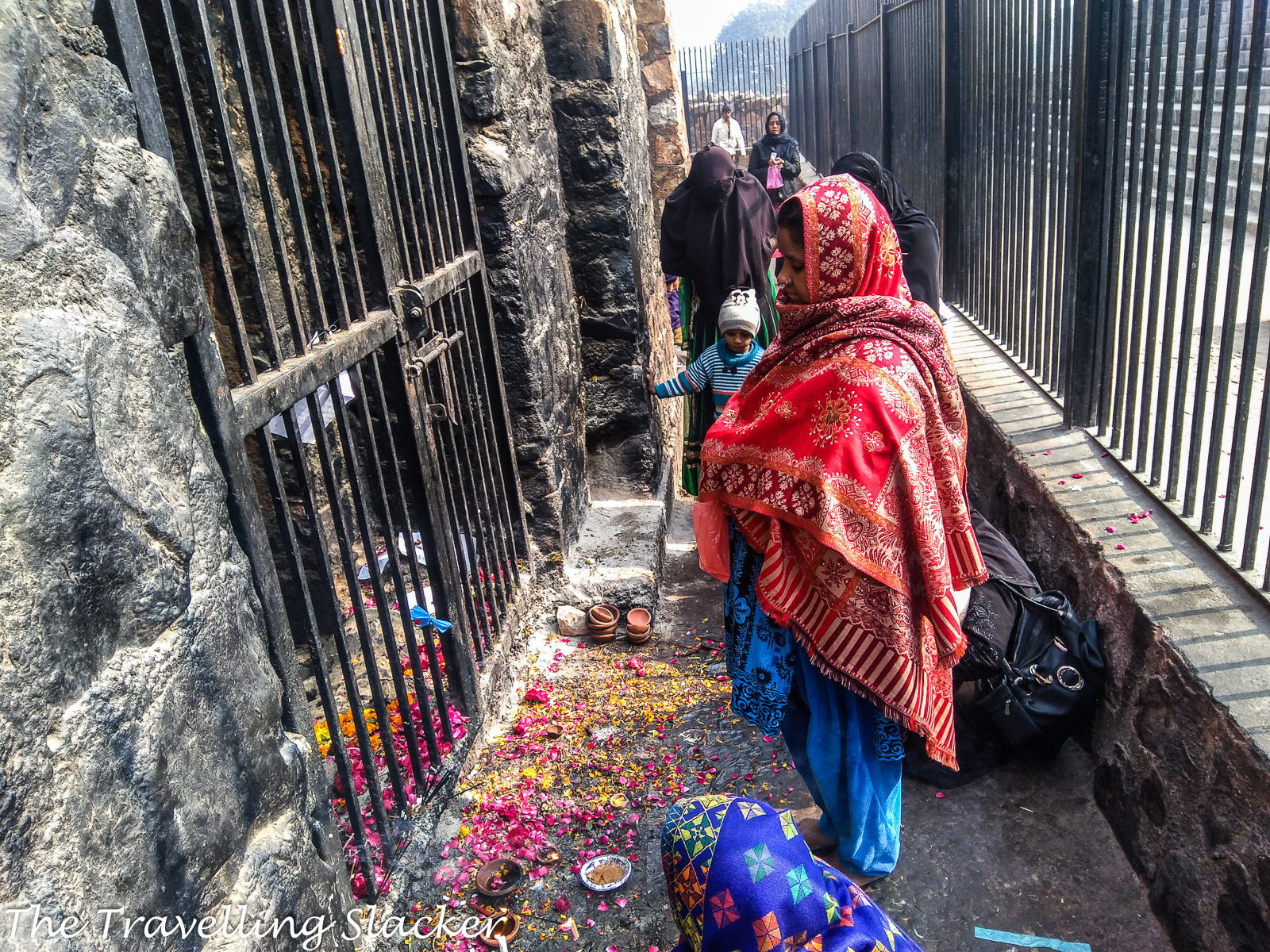 However, the intriguing part is that this is a very new practice. The only report I found about this notes that the process started sometime around 1977, just after the emergency in India and it had to do something with people who got displaced from their places and settled somewhere nearby. The details are sketchy but this is what always happens in India. People look up to ancient spirits to tackle present horrors and myths are developed in front of our eyes.
Also Read: 10 things nobody told you to do in Delhi
Feroz Shah Kotla Travel Guide
How to reach Feroz Shah Kotla?
Feroz Shah Kotla is located on the Bahadur Shah Zafar Marg. As mentioned before, the stadium named after the monument is more famous and that should do the trick.
Nearest metro station to Feroz Shah Kotla?
The nearest metro to Feroz Shah Kotla is Delhi Gate Metro on the Violet Line, which is very close to the Kotla. The Violet Line connects Kashmiri Gate to Fariabad. If you are in Rajiv Chowk (Connaught Place), just take the Blue Line to Mandi House and then to Delhi Gate.
Do note that many website have mentioned Pragati Maidan as the nearest metro because but that is outdated information because the Kashmiri Gate to Delhi Gate stretch is newly built and opened only in 2017.
Entry fee for Feroz Shah Kotla?
Entry fee is INR 5 for INdians and INR 100 for foreigners.