In the near future, by the end of Kali Yuga, the mountains around Badrinath will collapse due to some natural calamity and the current shrine will be inaccessible. Apparently the right hand of the Narsingh idol in Joshimath is growing smaller day by day and when it finally gets detached, the said calamity will take place. Once that happens, the shrine will shift to the place now known as Bhavishya Badri (Future Badri). In short, he is the Maitreya equivalent of Garhwal
_______________________________
Information Deficiency
I'd been idle for a while. Viruses of Delhi ensured that I did not pull off a single trip in October and most parts of November. In the meanwhile I also learnt about certain post viral symptoms that make one weak and fragile like a clay pot. I was beginning wonder if I would be able trek again anytime soon. Also, with the winter setting in, I'd given up hopes for any serous mountain adventure. However, exactly at that moment, I was asked to join in an inadequately conceived trip to Garhwal. The primary attraction at first was Tapovan (not to be confused with the one near Gangotri). This one is a nondescript hot water spring by the side of the road from Joshimath to Malari. This is not something that interested me but after a while it was realized that one can also do a trek to the temple of Bhavishya Badri (Future Badri) from that region. Not too much information was available about the trek even in this day and age but I decided to go ahead as it sounded… well… futuristic!
Apparent Dead End at Tapovan
Long bus rides are often tiresome in the hills. We did not have much time so we had to opt for the same. However, the sheer emerald serpents of the winter made up for the tediousness. Eventually we broke the journey at Karnprayag on the first day where I also located a functioning ATM without any queue. In case you have been following the demonetisation issue in India right now, you can be forgiven for being superstitious and considering it to be a good omen.
#Alakananda Please forgive the picture quality… taken from a moving bus. #ZenFoneMax #garhwal #Himalayas #uttarakhanddiaries @scoutmytrip #birdsofig #garhwal #uttarakhandtourism #himalaya #bns_nature #travelingram #huffpostgram #natgeotravellerindia #ngtindia #lonelyplanetindia #discoverindia #incredibleindia #himalayanbible @australianhimalayanfoundation #theindianroute #instatravel #outdoorjournal #desitravellersclub #himalayangeographic
The next morning we quickly moved to Joshimath. From there to Tapovan was a quick ride on the back of a shared car. However, it gained elevation quickly and the sight of sensuous Dhauli Ganga deep down the hills gladdened my heart. Tapovan was a small settlement built around a marketplace. The idea was to explore the nearby area, spend the night, and then trek the next day to Bhavishya Badri. However, we were in for disappointment as the only hotel in town was oddly full even during this off season. One person suggested that we move to Saldhar village a few kilometres ahead from where the trek begins. We were extremely unsure about this but not did we want to go back to Joshimath. So, we started walking along the road gingerly, hoping to find some shelter in the village. That is exactly when Bharatji, the proverbial deus ex machina, appeared out of nowhere.
Plan B: Towards Ringi Village
A peek into the peak And somehow I am still getting network… #nandadevi #garhwal #Himalayas #uttarakhanddiaries @scoutmytrip #birdsofig #garhwal #uttarakhandtourism #himalaya #bns_nature #travelingram #huffpostgram #natgeotravellerindia #ngtindia #lonelyplanetindia #discoverindia #incredibleindia #himalayanbible @australianhimalayanfoundation #theindianroute #instatravel #outdoorjournal #desitravellersclub #himalayangeographic
Bharat Singh is a local of nearby Ringi Village. He spotted us and enquired about our plans. Then he told us that the village we are looking to reach is quite far and also the trek after that is pretty steep. So, he offered us to lead to his own village that was a small hike away and also offer shelter for the night. It was really generous of him but I had my doubts because hill people generally do not realize how pathetic the city dwellers are in terms of stamina. I was not even feeling well and wanted to trek only the next day. However, there seemed to be no other option. So, we started following him. As we moved along, the magnificent vistas of Nanda Devi region started to unfurl and I finally regained my fading travelibido. After all, this region was not very far from the Valley of Flowers, the place where it all began.
It took an hour and a half to reach Ringi. As expected of a Himalayan village, it comprised of several layers of tiny hohseholds hanging precariously on the fertile slopes. However, it seemed like a pretty affluent village with well-built concrete houses gradually replacing traditional wooden ones. Apart from potatoes, buckwheat, cabbages, and other vegetables, they also grow apples as a cash crop. Bharatjis house was also a small but sturdy concrete building with a terrace where he lives with his wife and four daughters. Sadly I could never manage all of them in one frame.
As promised, Bharatji gave us a room but also made it amply clear that there was no financial motive attached to his action and he was only fulfilling his "farz" (duty) as a local to help strangers.
Tapovan Springs: Smoking Hot… literally
We decided to visit the aforementioned hot water spring in the afternoon as it was not very far from there. We had to climb down from the village to the road through a different trail, reach the main road and then walk for a while to reach the spring which was mostly underwhelming. It is a small spot by the side of the road where sulphurous water can be seen boiling amidst the rocks. On the other side of the road a small facility has been built where locals mostly wash clothes. However, the mud of the spring is believed to be good for skin and we actually saw two men collecting the same in polythene bags. I took a short video, can you hear the boiling water?
A Quick Morning Ascent
That night our hosts cooked rice, beans, and cabbages, all locally produced, as more fashionable people say, ethical and organic. The next morning we started early at around 7 am. The eldest daughter of Bharatji also joined us. Although she is a local, even she had not seen the temple. We could see the morning light illuminating the Nanda Devi however the shadow of the mountains kept casting shadow on most of the trail. Earlier this month, I'd planned to travel to the hills to capture autumn colours but those plans did not materialize. However, I was glad to see that the harsh winter was yet to set in and the orange and yellow hues of autumn was still visible in many of the trees while the pines were still green although the ripened cones were beginning to fall from the trees.
With our slow speed it took a couple of hours to reach Subhain village, the last village before the shrine. It looked even more precariously set than Ringi, just on the edge of the cliff. However, it was surprisingly greener for reasons beyond my comprehension. There is a smaller shrine for the deity here and these villagers generally look after the man shrine too. We took a short break here while local kids demanded to be photographed.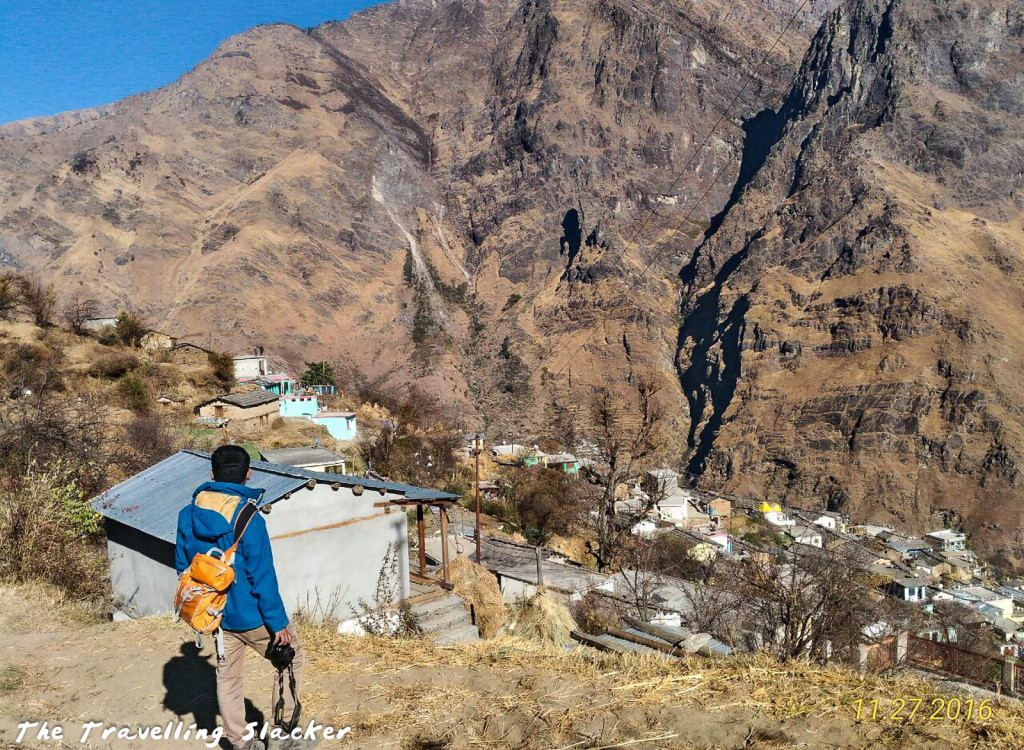 Beyond Subhain, even more coniferous jungles were waiting for us and it took one more hour to finally reach a shrine that we thought to be our destination, but it wasn't! It was a comparatively newer shrine of an ascetic of great yogic achievements. He is believed to be still alive and living in one of the higher mountains but this shrine is a mark of respect. We were still clueless about the main shrine but that's when Tyagiji appeared.
Tyagiji
Tyagi Maharaj lives in the small house behind the aforementioned shrine. He has been here for 18 years, and remains even during the peak of winter when his house gets buried in snow. He invited us for tea inside and we started talking. It was a long chat and all of it cannot be reproduced but basically what we learnt is that we had arrived there at the right moment because within a few days he was going to start is yearly "maun vrat" (vow of silence). He does not talk between December and February, goes into a shell and mediates. Yoga keeps him alive with very little consumption while the rest of the valley freezes in such zero temperature. However, we caught him at the right moment when he was in a talkative and jovial mood. He even offered hair care tips to Bharatjis daughter (his own hair is as long as he himself).
Finally, he took us to see the main Bhavishya Badri shrine which was a few steps above that point. The main shrine was actually somewhat underwhelming. The relic inside may be ancient but a new concrete building has been made around it without any aesthetic consideration. Nevertheless, he told us that the statue inside is slowly gaining shape. It was just a piece of stone earlier but it is now becoming more and more prominent. This surely goes well with the earlier story of the Narsingh which is shrinking. So, the calamity is not that far away!
The Bugyal of Eden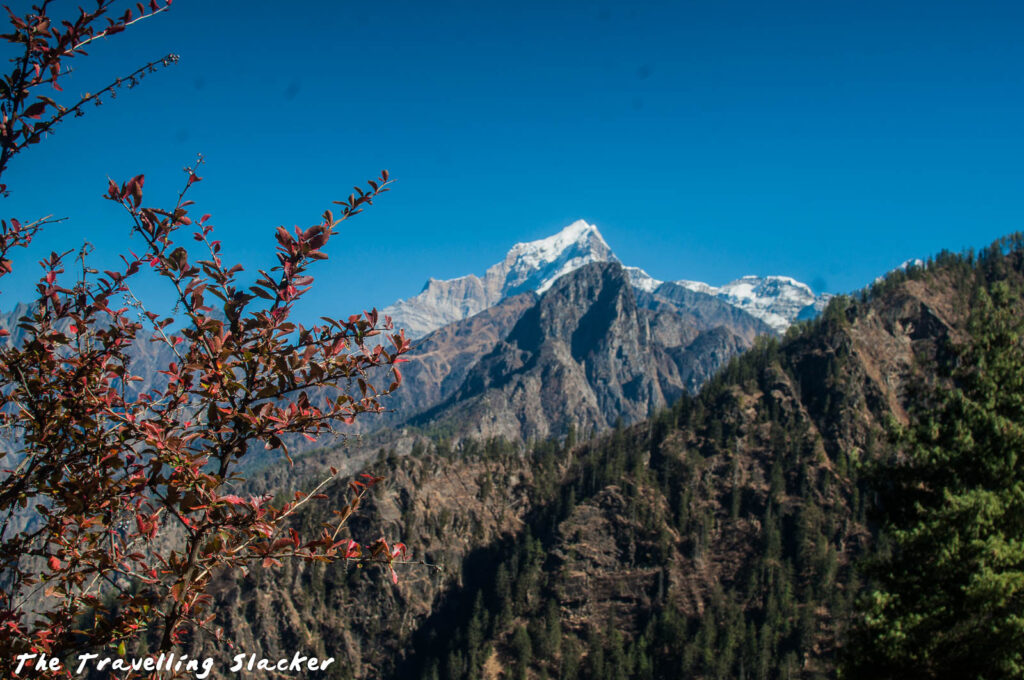 After spending some time at the temple, Tyagiji suggested that we should climb up a bit more to the small bugyal for better views and we soon realized that he was absolutely right. It was great location for 360 degree view of the entire Nit Valley. Nanda Devi, Dunagiri as well as Nilkanth were visible on various angles. I could only imagine how it would look during the summer when the flowers are in full bloom. We sat there soaking in the winter sun. The rest started meditating as I took photographs and listened to the flow of Rishi Ganga, a small stream that eventually meets the Dhauli Ganga.
We returned to Tyagiji's hut where he served us lunch. He seemed to have all the provisions despite living in apparent isolation. In other news, he also owns a mobile phone but he told that he switches it off for those three silent months.
The Return
After lunch we again went up to the Bugyal and spent some more time before coming back while vowing to return again in the spring. We took a steeper and shorter path while return and it got dark soon. Due to fading light, most of my afternoon photos were not satisfactory but I did get one interesting view, that of a small stretch of Dhauli Ganga at a distance and at a much higher altitude.
We had to spend that night too at Bharatji's household and came down quickly the next morning. The trip showed all signs of failure at the start however eventually it turned out to be one of the better trips in general and probably the most successful in terms of the interaction with local people. Besides, I am now more or less sure that much more needs to be explored in this Nanda Devi and Nit Valley region beyond the known shrines. You will see more of this area in the next spring and summer.