Yes, I mean every word of the clickbaity title above. Bhaktapur is the backpacking capital of Nepal for me and the heart of the entire Kathmandu Valley, more than Kathmandu itself.
After the initial few days in Thamel (Kathmandu), I was looking to move to some other place. Thamel was a bit too crowded and touristy (Paharganj of the Himalayas), and I needed a more intimate place. No one exactly told me to do that but my instincts told me that Bhaktapur would be a better place to stay.
Among other things, Bhaktapur is comparatively cheaper, is devoid of the traffic congestion of Kathmandu city, and you can literally stroll to any attraction without hiring a transport. Nevertheless, it is designed for tourists, and scores of cool eateries and bars (in Nepal, both are the same) are spread all over the old city. There are other detours like Nagarkot, Panauti, Dhulikhel, Namobuddha etc which are in the 20 KM range from the Bhaktapur town and can be visited easily from here.
History of Bhaktapur
Bhaktapur is one of the three major settlements in Kathmandu Valley along with Kathmandu City and Patan (Lalitpur). It is an ancient site. The Bhaktapur as we know it today, was mostly built during the time of the Malla Kings around the 16th century. They were later defeated by the Gorkhalis around 1768 AD but they also kept adding to these structures in Bhaktapur. However, repeated earthquakes (this is a seismically active region), kept destroying parts of it, the latest major earthquake being that of 2017. Also, Kathmandu eventually became the most important center of the country and Bhaktapur somewhat lost out the race. However, in the 1980s it went through sort of a revival with Western backpackers discovering it. Foreign grants have also helped restore the monuments after earthquakes.
The Mallas sometimes are connected back to ancient Licchavis, who used to rule parts of Gangetic plains in the first millennium. There are records of Licchavis losing out to early Gupta rulers and moving into the hills. They ruled this region for around 3 centuries but let's not forget their connections in India too. Chandragupta I, the early Gupta emperor had married a Lichchavi princess and they were the parents of all conquering Samudragupta. Even now, there's a train called Lichchavi Express in India, connecting Sitamarhi in Bihar to Anand Vihar (Delhi).
Arriving at Bhaktapur
I vacated my hotel room in Thamel, walked a bit away from the center to locate my cheap breakfast place (move away from Central Thamel as far as possible for cheaper food), and then walked to Ratna Park. While I was waiting for my bus, I couldn't see anything going towards Bhaktapur. After talking to a few people, I realized that it was the wrong side and I had to cross a foot overbridge to locate the actual bus stand, which I promptly did and found a bus too.
I took the front seat, just to the left of the driver, and also saw one Japanese guy looking to go to Changunarayan. The ride took slightly more than an hour before the map showed that we were nearing the town. However, I wasn't sure where exactly to leave the bus. Soon, I realized that the bus was taking a route that is going further away from Bhaktapur Durbar Square. So, I left the bus at a point where a smaller alley was going inside the heritage area. However, I wanted to take a hotel room first instead of going inside. So, I started walking back along the road, circumambulating the heritage area, to reach the other side of the town, where I suddenly noticed a thick concentration of eateries and hotels. In hindsight, I could have done better but it was a hot day and I took the first hotel I saw. It was nothing to write home about and I won't recommend it to anyone, nevertheless, I was just going to return here to sleep and so, I booked it for the next few days.
Bhaktapur Heritage Walk
Here, do understand a few things about Bhaktapur town. The heritage areas including major monuments are located in one area (like most big cities have old towns such as Old Delhi). The modern city has grown far beyond the same but for tourists, the old city is where you need to be. Most of the hotels are also located around it.
Bhaktapur Durbar Square
So, after keeping my stuff in the room, I came out and started walking towards the Bhaktapur Durbar Square. By that time, I had figured out that Bhaktapur has not one but three major squares. A big pond was on my left and on my right, there were a series of restaurants. After a plate of momo and tea, I walked a bit further and quickly reached the Bhaktapur Durbar Square.
Bhaktapur Durbar Square stands as the centerpiece of the city and is a UNESCO World Heritage site. This vast open square is surrounded by historic buildings, temples, and intricately carved palaces, showcasing the architectural brilliance of the Malla dynasty.
I was coming here after visiting the Durbar Squares in Kathmandu and Patan. So, it was not new to me but it felt a bit more intimate, and less congested although there were plenty of people here too. I could see some structures under construction and heaps of stones and bricks here and there. These must be due to the earthquakes in recent times which affected these structures. Nevertheless, most major structures are still fine.
The Bhaktapur Durbar Square has been here for several centuries. It probably reached its peak during the Malla era, when the most dominant structure here used to be the Basantapur Palace. Gorkha conquests and natural calamities have made sure that it no longer stands and there is now a school on that compound, with a couple of guardian lions still standing in front of it, still keeping vigil like Hiroo Onoda, completely oblivious of the circumstances.
Anyway, there are other structures that are still intact, including the giant 55-window palace and several temples like the Vatsala Temple. There are some temples that act as smaller replica of major temple such as Pashupatinath and also the Char Dham in India. However, the tallest, and most notable temple is the Siddhi Lakshmi temple, a Shikhara-style temple with steep staircases guarded by various animal statues on both sides. Climbing up the stars and reaching the main temple gives you great views of the entire square, something I promptly did. There were other visitors too, who ended up in my frames, but I think they've added to the frames rather than disturbing them.
For history enthusiasts, a visit to the Bhaktapur Museum is a must. Housed in the beautifully restored building within Durbar Square, the museum showcases a vast collection of artifacts, sculptures, and artworks that depict the history and culture of Bhaktapur. From ancient manuscripts to religious artifacts, the museum offers a fascinating insight into the city's past. I could not visit it because I was mostly out during the daytime and it got closed before I returned.
Taumadhi Square
After spending some time at Durbar Square, I checked the maps and saw another square which was 10-15 mins walk from there. I followed the directions, passed through some narrow alleys dotted with shops and residential quarters, and noticed several smaller temples and hitis, and also a small square dedicated to potters. I could see a lot of visitors taking part in the process, probably attending a pottery workshop.
Eventually, I reached Taumadhi Square and the first thing I noticed here wasn't a temple but a multi-storied cafe, organically built inside the square, utilizing the traditional structure. I immediately made up my mind to have dinner there one night, which I did after a couple of days.
Beyond that cafe, this square is dominated by the Nyatapola Temple and Bhairava Temple. While the Bhairava Temple itself is massive, it's dwarfed by the five-storeyed Nyatapola (literally meaning five roofs). It's one of the many pagoda-style temples here but it is probably the tallest. Another vintage from the Malla period, this temple is another one dedicated to Siddhi Lakshmi. I've architecture of this temple becomes all the more creditable when you think of the fact that it survived several major earthquakes that many other smaller structures could not!
Even as I reached the square, a big crowd had assembled in front of the temple and some familiar chants were reaching my ears. After a while I realized that a performance was going on. It was a big group of ISKCON devotees visiting the temples. The women had broken into an impromptu group dance here. I soaked in all the Krishna Consciousness for the day and checked the map again. Dattatreya Square was a few hundred years ahead.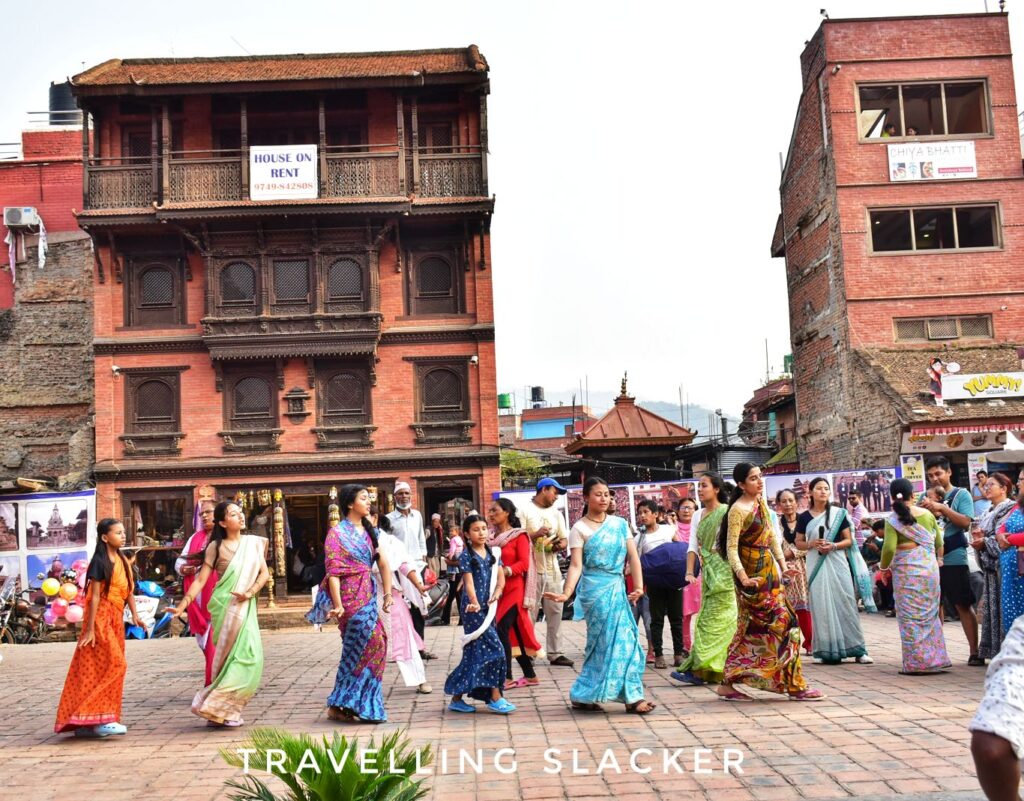 Dattatreya Square
This square is named after the Dattatreya Temple. Dattatreya is a composite avatar of the Trinity (Brahma, Vishnu and Mahesh or Shiva). The most distinctive aspect here is the two guards in front of the temple, who are much larger than usual and modeled after two wrestlers. These giant but goofy guards reminded me of the dwarpals of Varaha Temple in Pushkar and some strange swaying idols at Jhalrapatan.
It is another spacious square with several eateries and shops on all sides. After a while, the same ISKCON group arrived here too, and took a break for tea. Later on, as it was getting dark, I quickly took a detour of the smaller alleys and noticed what they call the Peacock Window. It is just one window frame but remarkable for the intricate bird sculptures.
Later on, I took a confusing detour and somehow came out of the Bhaktapur Old Town and reached a bridge on a river. That's when I realized that the actual modern town is located on the other side. Nevertheless, that part is just like any other town and the. The real deal is the old town I just visited.
Dhulikhel, Nagarkot, and Other Detours
Over the next few days, I also took some detours from here, especially to Dhulikhel and Nagarkot. There were more things to be done but I had to cut short due to some emergencies back at home.
The only disappointing part for me was probably the visit to Nagarkot. It's highly praised by tourists but it didn't work for me at all. To reach Nagarkot you have to reach the main bus stand of Bhaktapur, which is a bit ahead of the point where I got down earlier. I walked to it and got a bus too, which took more than an hour to cover this 15 KMs.
Now, Nagarkot is a hill station, a bit higher than the towns of Kathmandu Valley. It offers good views of the peaks on a good day but I was there in mid-June and while it was not monsoon yet, the clouds had started forming and there were no peaks to be seen.
I just enjoyed the cooler temperature and took a long meandering walk along the road till I reached a watchtower, which also failed to offer any views. People who usually don't visit hills will probably like it but I can get such views (and more) in any average lower hill station in India.
What's worse is that due to the hype, Nagarkot is extremely expensive. A Thakali costs almost NPR 400 (even in Thamel it is 200-250) and is lower in smaller places. In short, if you want to see real peaks and enjoy high mountains, take the effort to go further. While attempting Nagarkot, I ran out of time to visit Changunarayan, which is one of the most ancient temples here.
In comparison, I had a better experience in Dhulikhel. This place is less frequented by tourists and so things are dirt cheap here. I found many temples scattered around the town and also hiked for a couple of kilometers to reach a temple higher up the hills. I will write a detailed post about it later on, so I am exercising restraint here.
There are other spots here like Panauti, Namobuddha, and Suryavinayak, that could require another couple of days.
Beer Hunting in Bhaktapur
Actually, this started from Thamel itself. Nepal has many homegrown beer brands. I tried many of them throughout the trip. Unlike India, no one makes a big issue out of a beer in Nepal. Even general eateries serve the same and I always made it a point to try different brands like Mustang, Nepal Ice, San Miguel, Barasinga, Goarkha, Yeti etc. I also visited that Cafe at Taumadhi Square on my last evening in Bhaktapur had another one.
Bhaktapur Cuisine
No visit to Bhaktapur is complete without indulging in its delectable cuisine. Apart from the usual Nepali food, the city is known for its unique Newari culinary delights, which include dishes like Juju Dhau (King of Yogurt), Bara (made of black lentil) and Yomari (a sweet rice flour dumpling). Exploring the narrow alleyways will lead you to traditional eateries and street food stalls, where you can savor the authentic flavors of Bhaktapur.
Bhaktapur Travel Guide
How to Reach Bhaktapur?
You'll easily get buses from Kathmandu. You can find them at various points but the best bet is Ratna Park bus stand near Thamel, where most tourists stay. Just make sure to reach the real bus stand crossing the overbridge and don't wait near the park.
Where to Stay in Bhaktapur?
Bhaktapur has scores of hotels and guest houses in all possible ranges. I ended up in a hotel costing NPR 1000 but I won't recommend it. I suggest you roam around the area for a while to find best options.
What are the main Festivals in Bhaktapur?
Bhaktapur is renowned for its vibrant festivals, which are celebrated with great pomp and fervor. The city comes alive during festivals like Bisket Jatra, Bhairav Jatra, and Indra Jatra, where ancient traditions and religious rituals take center stage. These festivals provide a unique opportunity to witness traditional dances, music performances, and processions that showcase the cultural richness of Bhaktapur.
Phone and Mobile Connectivity
Connectivity is good if you have a local SIM. Check my earlier Kakarbhitta to Kathmandu post for details about getting a local SIM along with other details.