I'm not sure why it took so many years but nevertheless, I finally made it to Nepal by taking a never-ending bus ride from Kakarbhitta to Kathmandu. Nepal shares a long and porous border with India and we Indians don't even need a visa to enter. It is also full of mountains, exactly what I like. Yet, somehow it had eluded me so far. So, let's have a look at the whole process.
Kakarbhitta to Kathmandu Bus Ride
Reaching Siliguri: Guwahati to NJP
I took an overnight train from Guwahati to New Jalpaiguri (NJP) and reached Siliguri in the morning and checked into a hotel. I could have moved on immediately but choose to spend a day loitering around the city. I have been to Siliguri before but usually I leave immediately to the next destination like most people. This city is the gateway to Nepal, Bhutan, Sikkim, and Darjeeling although the city itself doesn't attract anyone. That's why I choose to spend some time here to have a slightly better understanding of the city as it is located at a strategic point and this knowledge may be useful someday. I stayed near Tenzing Norgay Bus Terminus from where you can find buses to most of the places.
Here, I must also mention that it was June and I had picked the hottest season of the year. Both heat and humidity are at their oppressive worst during this season and both Guwahati, the city I was trying to escape, and Siliguri, are equally unpleasant at that time of the year.
Siliguri to Kakarbhitta: Entering Nepal via Panitanki
The next morning I looked for a bus from Siliguri to Panitanki. Buses leave every hour, so it wasn't that difficult to locate one. However, at that moment one guy offered me a car. He said instead of Panitanki, he will drive directly to Kakarbhitta. I asked for INR 500 which was a bit high but considering the oppressive heat, and the fact that the bus won't cross the border, I choose to splurge. Also, it was supposed to be a shared car but he couldn't find anyone else and it became like a personal vehicle!
The road was smooth and within 40 minutes we reached Panitanki, which was just a busy marketplace. Panitanki literally means Water Tank, so the name probably comes from a big tank installed for water supply. There's a bridge here, crossing which one can officially reach Nepal. Foreign visitors will have to produce a few more papers including the visa but for Indians it's pretty easy. On the Indian side we were stopped once, where my ID was checked (just a formality, the cop barely glanced at it for a fraction of a second). I had heard that it is also checked again on the Nepali side but nobody really asked!
One good thing about getting this car instead of the bus was that he directly took me to a bus booking counter and also showed me where to get a local SIM card and where to exchange money. So, I think paying a bit extra was worth it for the convenience and guidance for a first timer.
At Kakarbhitta Town
It was around 11 AM when I reached Kakarbhitta. It was a pretty busy town with a lot of shops and people here are used to the inflow of tourists and other people crossing the border. Most of the things you need to kickstart your Nepal trip can be found.
As the car had dropped me at a bus booking counter, I sorted it out first. Here are the usual options for the same,
Kakarbhitta to Kathmandu Bus Ticket Fare and Timing
Buses run throughout the day but the convenient ones are usually overnight buses. I booked one that started around 3.30 PM to reach Kathmandu in the morning. This also saved a day for me as well as hotel expenses for one night. The ticket cost INR 1500 or NPR 2500.
Microvan/Microbus from Kakarbhitta to Kathmandu
There's another option available. These are smaller vehicles called Microvans or Microbuses that accommodate 15-20 people. They are faster because they take a different, shorter route through Banepa and Bhaktapur (if you are planning to stay in Bhaktapur too, then you can get there even before reaching Kathmandu by using this option). As far as I could see, most of these leave very early in the morning, around 5 am to 6 am. Rates are similar to buses or may be slightly higher. I didn't try them because I had reached around 11 AM and didn't want to wait till the next morning.
Kakarbhitta to Pokhara Bus
Yes, there are direct buses available to Pokhara too from here. So, you don't have to go to Kathmandu if your target is Pokhara and beyond. The rates mentioned at my booking counter to Pokhara were almost the same as Kathmandu.
Getting a Nepali SIM card at Kakarbhitta
After booking the tickets, the next task was to get a local SIM. One can get it in Kathmandu too but it's much more convenient to finish it off at the border is that you have network during the trip and after reaching Kathmandu in case you have to look for directions.
The process if extremely simple, much more simpler than in India. All you have to do is to find a shop selling SIM cards, choose a service, and show your passport or any other acceptable I Card. Photos are required but even if you don't have, they'll simply click you using their phones. I paid around INR 400 including change for the SIM and validity of a week for 1 GB data per day. The cost included his service for clicking and processing the photograph and documents too. It got activated almost immediately. It was an NCell SIM.
Money Exchange at Kakarbhitta
The next thing was money exchange, one of which was located near the bus ticket counter. 1 INR was around 1.6 NPR at that time but in Nepal most people just give 1.5. At the moment exchange also, I got NPR 15200 for INR 10000.
Beer at Kakarbhitta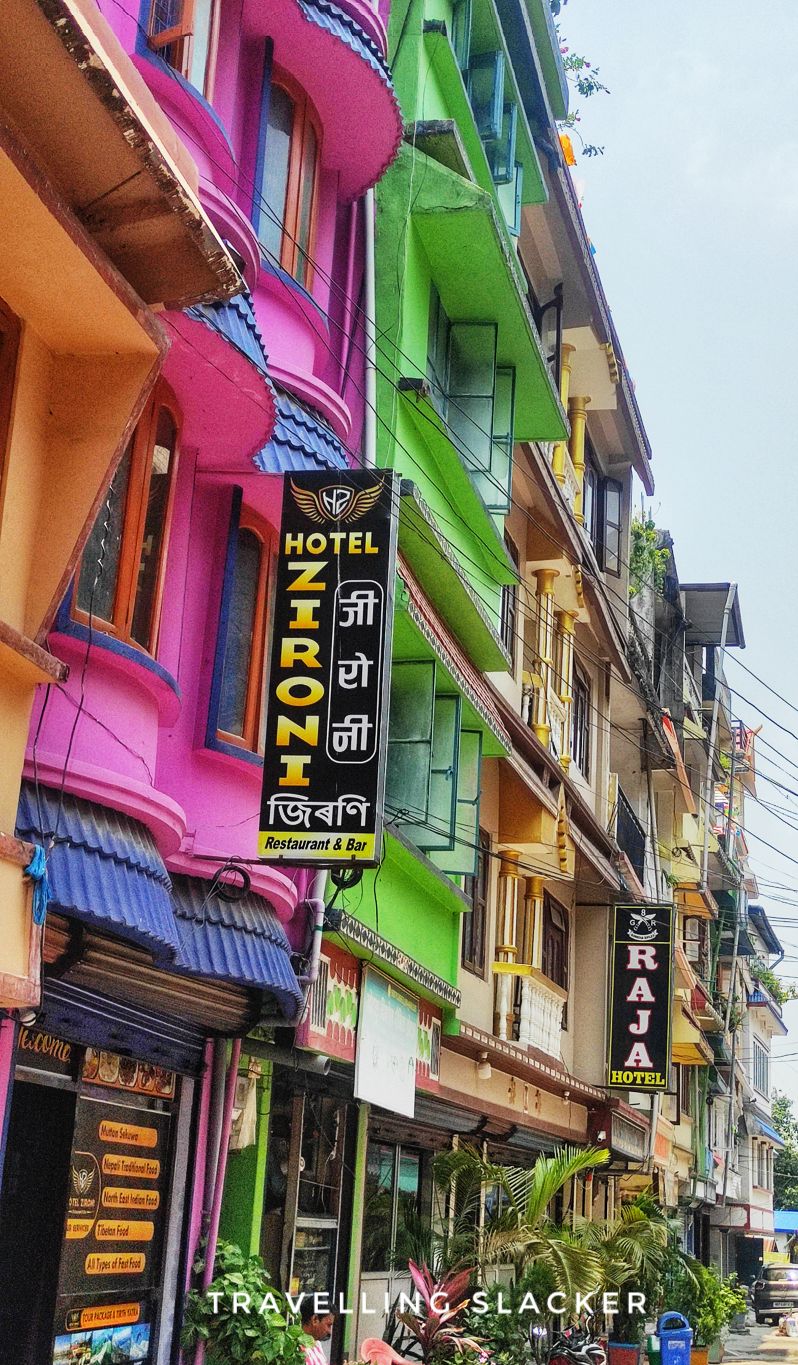 After all the job was done, I still had three hours to kill for the bus. I kept my bags at the bus ticket counter and roamed around the town for a while though the heat and humidity made it difficult. Eventually I saw a shop called Jironi, which means "Rest" in Assamese. Out of curiosity, I went in and found out that the guys are from Assam (there's a reasonable Nepali diaspora in Assam). So, I decided to sit there for some time. Although it was an eatery, they were mostly enjoying siesta and nothing was available except beer. So, I ordered my first Nepali beer, a Gorkha Strong (Nepal has many local beer brands that'll be explored in the future posts).
Kakarbhitta to Kathmandu Bus Ride
So, the us eventually started at around 3.45 PM. The AC was indeed on an most people found relief getting into the bus considering the oppressive heat outside. All these buses seem to have strange names. My bus was called Golden Google and it had the image of Godlmine Gate Bridge on the body.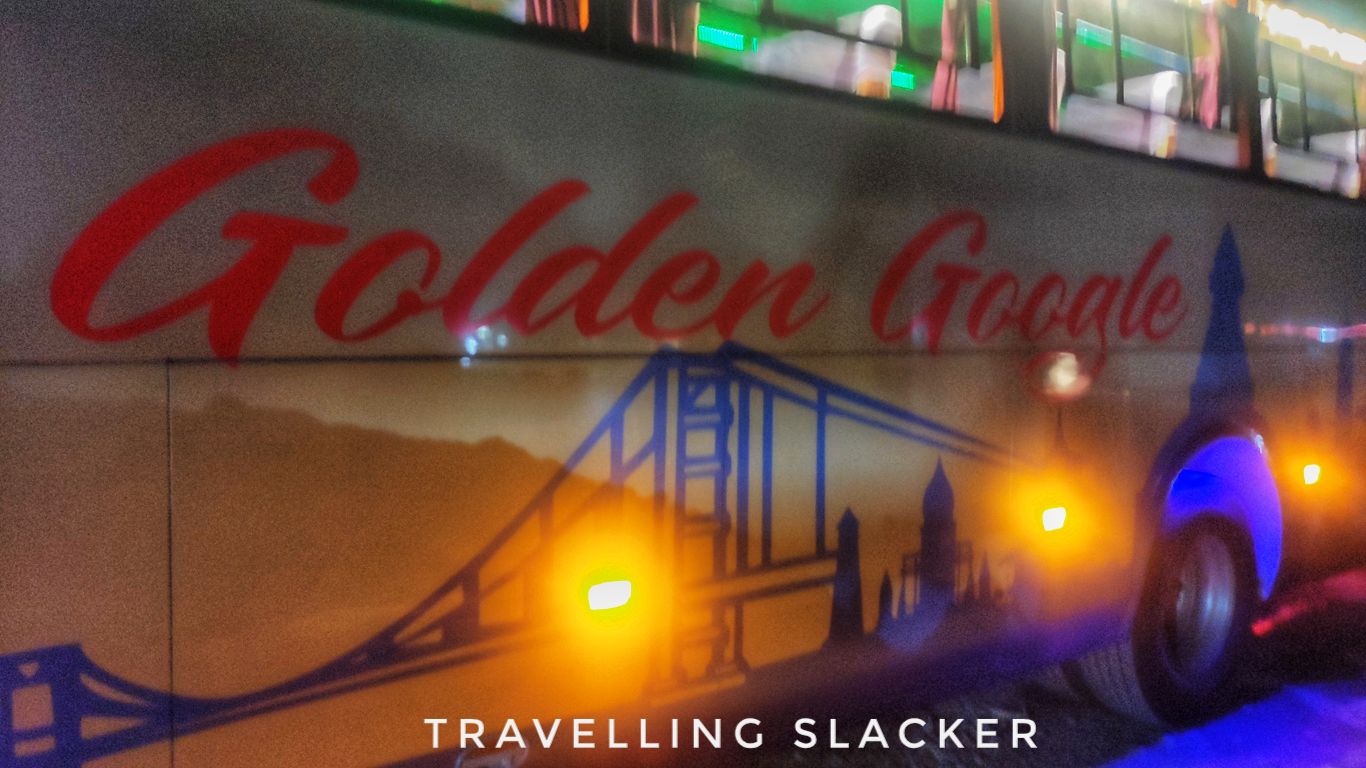 What I liked was that these buses also have windows that can be opened if needed. This is an option I prefer to have compared to the suffocating Volvo buses that have become popular in India due to city zombies who hate natural air. Those ones are completely sealed and there's no way to open the window. The next morning, I did find the window useful as the AC stopped working for the last couple of hours or so!
Anyway, the ride was smooth and mostly eventless apart from one guy who was travelling with a big dog and struggling to control it (watch the video). They also had the TV on, which mostly played Hindi dubbed versions of Tollywood and Kollywood films apart from some Nepali music videos.
Sleep Quality in Kakarbhitta to Kathmandu Overnight Buses 
I generally can't sleep in running buses but here I did sleep several times. I fell asleep, woke up, and fell asleep again throughout the night. Not sure if it was because of the tiredness.
Time Taken to reach Kathmandu in a bus from Kakarbhitta
So, it took almost 20 hours for me compared to the 15-16 hrs they promised. However, it was not because of road conditions as you may assume. The main reason was the extreme traffic jam in the morning. This usually happens during the last 20-30 KM stretch before entering Kathmandu and there's no way to escape it!
The other reason was probably because the bus kept changing routes. Why do I think so? Because I remember around 4 AM the map showed 3 Hrs remaining. I slept again and woke up at 5 AM and it was still the same time and distance left. Then I checked at 7 AM and it was still the same! So, I assume they take additional detours at night to drop people in other nearby towns. This delay was exacerbated by the traffic jam later on and I reached around noon!
Kathmandu: Machapokhari to Thamel 
It took way longer than it should have and my phone had run out of charge too by the time I reached the bus stand. Now, I wasn't even sure how to get to Thamel (where most of the hotels are) from here and I couldn't even check the map. Nevertheless, Installed to one guy who was on my bus and who'd had an interaction with me earlier at Kakarbhitta. He spotted one biker and said he'll take you to Thamel for NPR 200. I had no energy for looking for a local bus and so, I quickly hired him.
Thamel was around 3 KMs away and he dropped me there quickly. I walked around the area for a while, it gave me Paharganj vibes with so many hotels, eateries, and shops selling touristy kitsch, although it was much cleaner. Finally at one point one guy asked me if I was looking for a hotel. This hotel was a bit costlier than standard and I got a single room for NPR 1500 (approx INR 1000). Much cheaper options are available and Backpacker hostels are there too. However, for the first day, after a very long bus ride through unknown territory, I opted for a bit more comfort.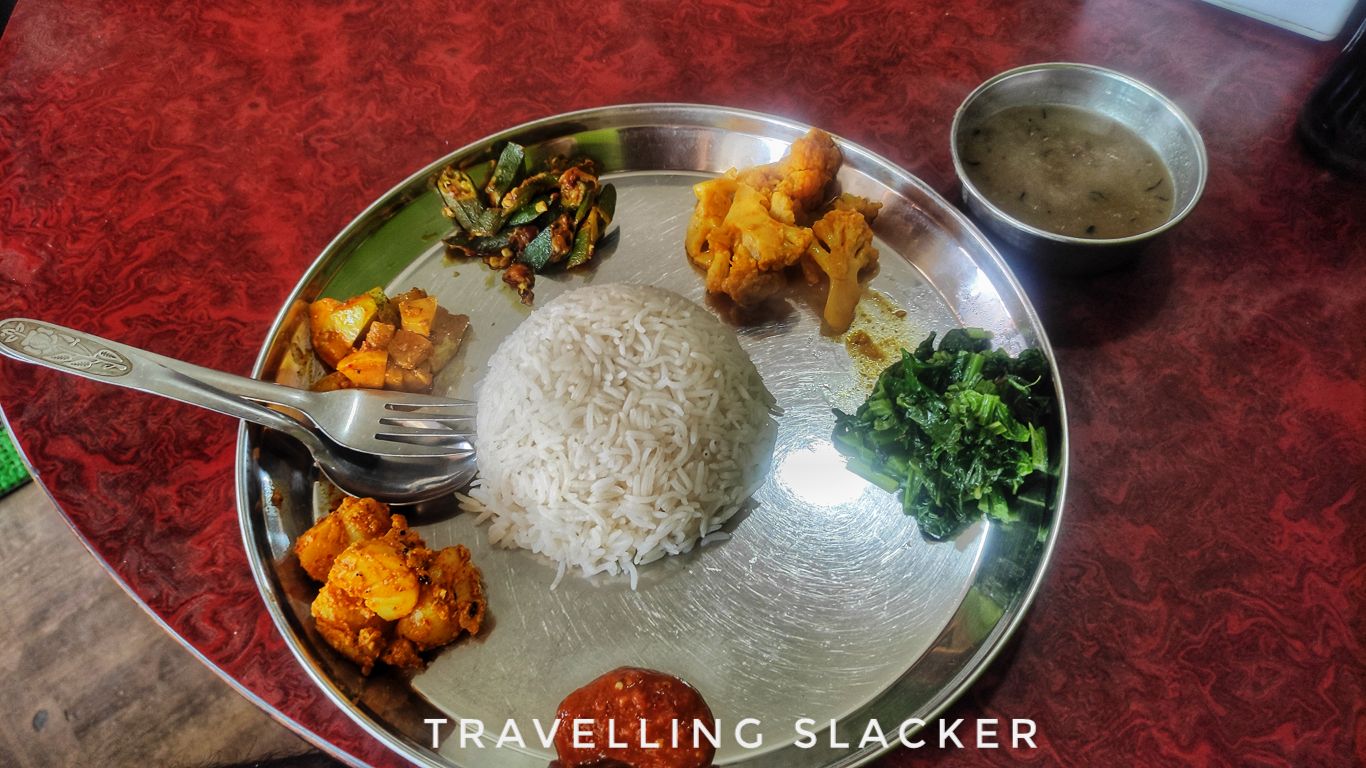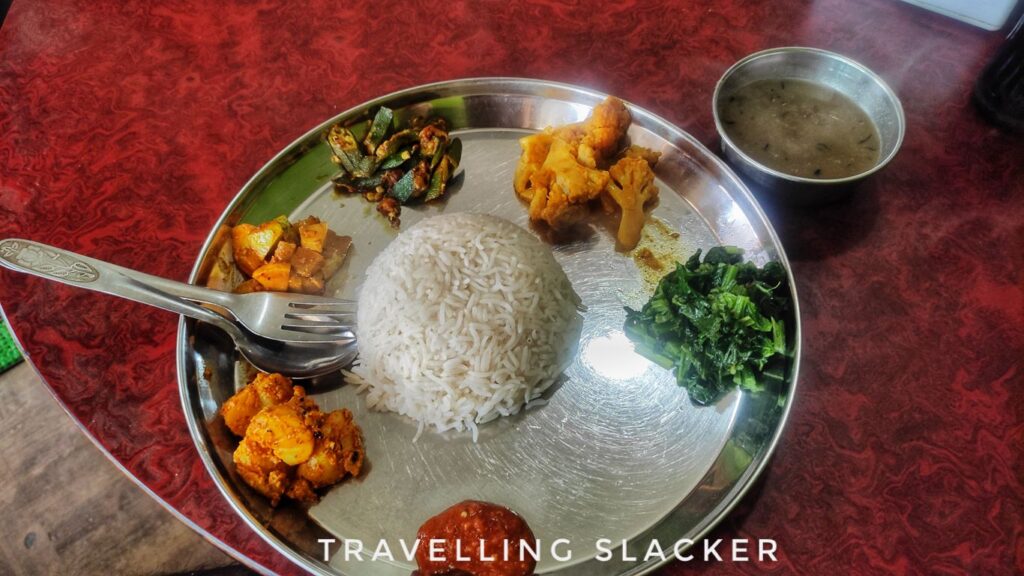 Kakarbhitta to Kathmandu Road Conditions
Contrary to popular opinion that often lament road conditions, I found this stretch of highway from Kakarbhitta to Kathmandu to be decent. Also, more constructions are going on and it should improve further. The delays I faced were more due to extreme traffic and longer route selection before entering Kathmandu as I have described above.
The Return Bus Booking from Kathmandu to Kakarbhitta
My original plan was to leave from a different point due to some personal issues I had to return home quickly. So, I took the same route back. It was a bit quicker, took around 15 hours, and after descending from hilly routes escaping Kathmandu Valley, it was quite a smooth drive.
Only thing I want to point out of that finding a ticket booking counter in Thamel for this route is a bit difficult. Also, there is an option of booking online in some local apps but I wasn't being able to transact online from my Indian accounts. So, eventually I went to Machapokhari bus stand. While I didn't find anything inside the buus stand, I found the counters outside the bus stand complex, accross one of the roads. You just have too look around till you can locate a signboard like the following. I booked a ticket for INR 1250 which was even cheaper but this one had a non-working AC although at night we could just open the window.
You can also get Microvans but you have to ask around about their location. I was told that they live from somewhere at a ring road. This bus stand is much easier to locate in comparison.
Food on the Kakarbhitta Kathmandu Bus Route
Buses stop at 4-5 places during a long trip. However, do note that food in such places are usually overpriced for tourists. You can go for it if you are in a good mood or you can just carry something with you to survive the night.