So, as the lockdown continues, I am also watching more and more movies and shows like every other marginally privileged, pathetic, self-centered, middle-class bugger with a 4G connection. So, I thought I would make a listicle of travel-focused films, shows, and documentaries to watch for others like me. Considering the fact that there are many such lists already, I am going as obscure as possible but I am keeping in mind that they are available for streaming in India in at least one platform, so that you can watch them immediately if you want.
Not all of these are necessarily road movies or travel documentaries. There are other kinds of films that are so deeply rooted in a region that it informs you about the place and encourages you to explore it. There are also a few that explore pertinent topics of sustainability, conservation, and the conflict between humans and nature.
The Criteria 
I have some simple criteria for my selections…
They are available for streaming in at least one platform in India. Some of them are even on Youtube, rest are on paid channels like Netflix, Vimeo, & Prime.
These films, shows, or docus deeply focus on a certain geographic location, which informs you about the place, encourages you to travel & explore.
I am more inclined to include lesser-known, offbeat, and underrated entities. I am NOT here to recommend Into the Wild for the nth time. It's there in every list, so fanboys please don't comment to demand its inclusion. For that matter, there are some other great movies that I like, such as Motorcycles Diaries, Lawrence of Arabia, & Midnight in Paris, that fit into this list, but again they are too famous and you know them already (Watch them if you have not).
So, that's it… here we go…
10 Epic Travel Movies to Stream Now
——————————————-
Wolf Totem (Inner Mongolia, Netflix)
 Jean-Jacques Annaud, 2015
I read the book by Jiang Rong when it came out. I still think that the book is better (which is the case with most book adaptations) but nevertheless, the film has enough to keep you occupied. The intense visuals of the lush green Mongolian Steppes is enough to fire up your imaginations. There are Mongols, wolves, populist mythology, and insane landscapes. It is a sumptuous production with great visual effects. Certain shots involving wolves and horses will linger with you for a long time. Days are glorious in the steppes while the nights are dark and full of terrors, as you can see in these contrasting screenshots.
On top of that, it is a rare film that criticizes certain excesses and destructive, unsustainable practices of China's Cultural Revolution, and yet is not banned in that country! In fact, the director Annaud was banned in China earlier for making Seven Years in Tibet but they seem to have changed their mind. So, that is an interesting side story. It does have that feel of a revisionist western and at times, parts of it may remind you of Kevin Costner's Dances With The Wolves or a Russian-Mongolian film Urga.
It is available on Netflix India.
Frontera Verde (Amazonia, Netflix)
Ciro Guerra & Co. 2019
Ciro Guerra, one of the directors in this series, also made a great indie film called Embrace of the Serpent, also set in the Amazons. This series seems like an extension of those themes but being a Netflix production, this is more commercial with a more concrete plot, more action, and two strong & fascinating female leads.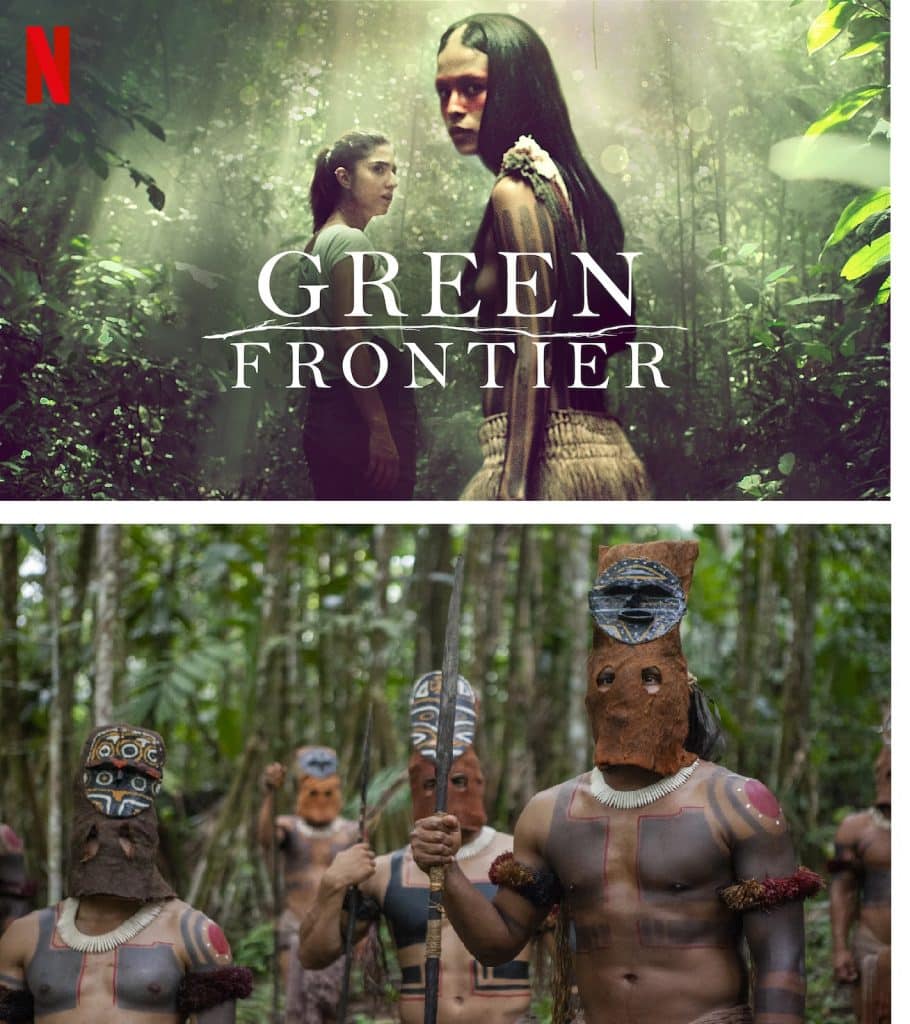 It is a Columbian production that dives deep inside the Amazonian rainforests and expectedly contrasts the symbiotic connection of the natives with nature against the greed and destruction of the outsiders. Why I like it more is because it often doesn't necessarily care about what is rational and believable, and keeps venturing into surreal territories, true to the ethos of magic realism that blossomed in this continent.
It is available on Netflix India.
Im Juli (Germany-Turkey, YouTube)
Fatih Akin, 2000
It is probably the most mainstream road movie on this post. It is a romantic film with some quirky humour involving youngsters discovering themselves. Akin has done more serious work later but this is one of his easiest movies to watch and the most audience-friendly one in this list.
I think it should suffice to say that they start from Germany and drive through many countries of Southeastern Europe to reach Istanbul. The charm of these locations should be enough to make you watch it. For some reason, the whole film is on YouTube for free. However, they don't seem to have subtitles. Anyway, if you are a true cinephile, you will know how to get it from other sources, along with the subtitles.
Here is the YouTube link without subtitles.
Dersu Uzala (Russian Far East, YouTube)
Akira Kurosawa, 1975
It is made by the giant Kurosawa but it is in Russian. It is shot in the Far East of Russia, some of the last remaining epic wildernesses in the world. It also won an Oscar but that is hardly required to sell this film.
It is an adaptation of a book, based on real events. This again has familiar themes of modern humans struggling in the woods but eventually receiving traditional enlightenment from a native. Dersu Uzala was a real person, a Nanai hunter, someone who could have saved the guy from Into the Wild. He joins a team of expeditioners from the Russian army as a guide.
I watched it ages ago but now it seems to be on YouTube with subtitles. It is there in two parts. Here is the first part. You will find the next in related videos.
Nainsukh (Kangra- Jammu, Vimeo)
Amit Dutta, 2010
Nainsukh is set in the lower Himalayas covering areas of Kangra and Jammu. It is about the eponymous artist, who was a master of Pahari painting. Made by one of the most obscure auteurs of India, this film is more about the art form but the locations are picturesque enough to make you consider exploring this region.
Although it is all about Nainsukh, the artist, it can hardly be called a biopic. So, most of the film is about a series of painstakingly constructed scenes that imitate some of Nainsukh's best-known paintings with the King. It tries to reimagine how he must have gone about creating these works and at times, the settings in the films seem uncannily similar to the paintings.
It is available on Vimeo but costs $5
I recently watched and wrote a longer piece about it.  
Frozen (Ladakh, Vimeo)
Shivajee Chandrabhushan, 2007
Don't confuse it with that Disney film. This is a different one. This is set in Ladakh but shot in a bleak black and white tone. It is about a struggling father who makes apricot jams, his teenage daughter and young son. The father is played by Danny Denzongpa in his least known but best-suited role! The director has a mountaineering background, which may explain his choices. It is shot by Shanker Raman, who later made films like Gurgaon.
There is an interesting twist at the end of the film though, which shows that the markers were cinematically more ambitious than average travel filmmakers. I watched it ages ago, sometime around 2009, during some special screening. That was much before I visited Ladakh. Probably I should watch it again.
Frozen is available in Vimeo for free!
Pushkar Puran (Pushkar, Vimeo)
 Kamal Swaroop, 2017
As the name suggests, it has been shot all over Pushkar, that too at the time of the famous Pushkar Mela (Pushkar Camel Fair). However, it is not an average travel documentary. It goes deeper into the mythology, especially the violent and sexual aspects of it. There is a sequence where the gory spectacle of Ashvamedha is described with the present-day footage of a white stallion in the backdrop.
I don't know how many are familiar with Kamal Swaroop and his earlier work such as Om-dar-ba-dar. Basically, he is always on his own "trip". He doesn't give a shit about the viewer and the onus is on you to get involved. Interestingly, although I don't have any proof, I saw the crew of this film shooting at the fair when I visited the Pushkar Fair in 2015! You may find it intriguing if you have not been to Pushkar but will probably enjoy it more if you are already familiar with the place.
It is available in Vimeo for $ 0.99
You can check some of my Pushkar posts too.
Crossing Bridges (Arunachal, Amazon Prime)
Sange Dorjee Thongdok, 2013
It is like the Swades of Arunachal. A Sherdukpen guy returns home in West Kameng district after many years in Mumbai and struggles to fit in initially. But gradually things change as he is forced to settle down. There was a subtle star-crossed romance too but the larger theme is that of reconnecting with one's roots.
More importantly, I just passed through the region depicted here in January although I could not spend much time. I was planning to go again when the lockdown struck. But make no mistake, this area is going to see a tourism boom.
Some years ago, I watched it during a special screening in Delhi but now it has become available on Amazon Prime India.
Mononoke-hime (Japan, Netflix)
Hayao Miyazaki, 1997
I thought a lot about it. I was not sure if an animation film fits into this liest but eventually, I decided to go ahead of it because it is one of the greatest films ever made anyway. It may be an animation but the forests depicted here seem pretty real. From what I have heard, they were inspired by some real forest in Japan.
It depicts the expected conflict between humans and nature. There have been other films exploring this theme but nothing as visually stunning as this one and nor can I do justice to it with my words.
It is available on Netflix India.
Stillwell (Assam-Arunachal-Myanmar, YouTube)
 American Office of War Information, 1945
It is sort of an American war-time propaganda film that is pretty upbeat and uplifting (for the allies). In a way, this is the only Hollywood production in this list and is narrated by Ronald Reagan of all people, who was a not so big Hollywood actor back then.
As the name suggests, it depicts the building of the Ledo Road or Stillwell Road during World War II. It connects Assam to China via some of the most inaccessible parts of Arunachal and Myanmar. Although the road remains neglected now, some of these regions in Upper Assam and Arunachal are worth visiting, although I have not been able to do justice to them. Also, this informs you how severe the war was in Northeastern India. Yes, WW II was not limited to the Atlantic and Pacific theatres. There are a lot of war cemeteries and memorials one can explore in NE.
It is available on YouTube.  
I once made a list of such WW II related spots in NE. Check it.