My pursuit for Tamladu (Tamla-du), an important Festival of Digaru and Mizu Mishmis (more about the people later), started with some posters floating around in social media. I did not have much idea about it but it seemed like a good event to attend, especially since I missed out on the Reh Festival of Idu Mishmis in Anini earlier in February. However, it was easier said than done. The first confusion was that I saw multiple posters with different locations mentioned. After a few days, it became clear that there isn't only one venue. The festival is organized at various places in Lohit and Anjaw districts. So, which one to attend? Also, many of the locations seemed obscure and I wasn't sure how one could reach them and if there'll be accommodation available at all even if I gatecrash.
Zeroing in on Loiliang Village
I was discussing the visit with Freebird on Instagram as she had been to this circuit before. She had to drop out due to some urgency but not before she called one of the numbers mentioned in one of those Festival posters. It was Mr Joging Tamai, one of the organizers of Tamladu in Loiliang Village. His location seemed easier to reach, just a few kms from Tezu town, and he was eager to have a visitor or two to witness the event.
So, the next day I took a shared car to Tezu from Tinsukia via Namsai and Chowkham. The ride was smooth, the infrastructure has improved a great deal in recent years, at least in the lower areas. I had not even taken ILP and got instant ILP at the Dirak Gate. Such permits at the gate are given immediately but only for a day (However, no one checks while coming out so you can have a longer trip too).
I reached Tezu by noon and called him again. He arrived on his bike and took me to Loliang, which was around 10 KMs from the town, on the same route where the Tezu Airport is also located. It is a pretty big and spacious village with blue peaks of the Mishmi Hills looming large on the horizon.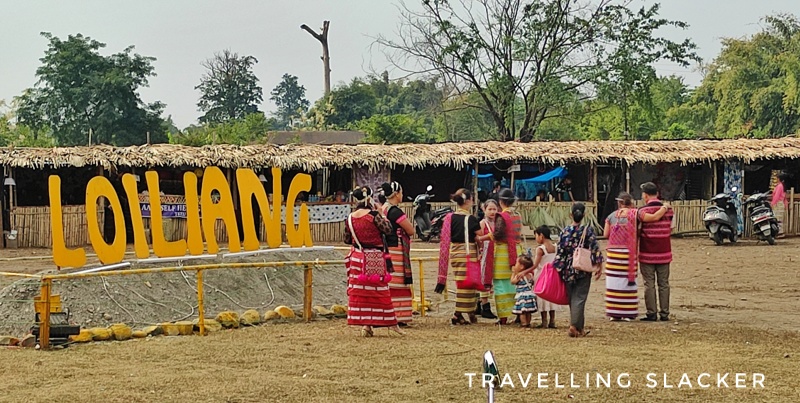 We went directly to the festival venue, where the festivities had been going on from the previous night. There's a reasonably big makeshift stage where a local guy was singing. Major cultural events take place at night so the local youngsters were having fun during daytime. There were many makeshift stalls surrounding the venue. But they were run only by locals, selling authentic local products (Unlike something like Jonbeel Mela which has been ruined by too many external elements). We started the proceedings with a bottle of pineapple beer. I noticed that they have several flavours of homemade beverages apart from the ubiquitous rice beer. I also have to mention here that the contact was established at the last moment and due to uncertainty, I had left home without my main camera and relied on the phone for the whole even and kept regretting the same!
After sometime at the ground, we decided to sort out my stay, which turned out to be a traditional but empty Mishmi House. This is apparently a community house which is built to preserve the traditional architecture which is gradually being taken over by modern constructions. It can be called a museum too as the room has been furnished with genuine items like traditional tools, fishing equipment, furnace, and skulls of animals. However, the good thing was that there's also a bathroom behind and there was electricity with a charging plug. No one actually lives in that house so the presence of these facilities felt surreal and serendipitous.
So, this is where I spent two nights and mostly had food at the stalls at the festival ground. The festival ground was around 2 kms away and kept walking to and from the venue. It got really dark and lonely at night, just the way I like it. I also felt that some of the animal heads on the wall came alive at night but it was probably the beverages.
Tamla-du: A Prayer for the Whole World
"The rituals at Tamladu Festival are done not only for Mishmi people but for the well-being of the whole world." 
Mr Tamai made this clear several times during our conversations over those two days and I think that is why one needs to spare some time to understand the rationale and motivation behind the festival. A perfunctory glance would tell you that the event involved a lot of song and dance including traditional performances as well as Hindi songs, a beauty pageant, and even a body-building competition. If you like clicking ethnographic portraits, it is a great opportunity as all the locals show up in traditional Mishmi attire. However, you may miss the actual significance of the festival amidst the festivities unless you talk to the organizers.
The present form of community Tamladu festival is actually a new phenomenon but with ancient roots. Originally these rituals were done at a personal level by individuals or families. In the 1970s the Mishmi elders decided to start celebrating it at a community level and turned it into a cultural event to attract newer generations who were gradually losing touch with their roots due to exposure to the outside world.
The rituals are of course performed by a local priest or shaman, who's a common feature in various ethnic groups in Arunachal. How does one become a priest? That's hard to explain. Apparently one just realizes it (like a more rudimentary version of achieving enlightenment). "Tamla" is basically a small sacred space, usually protected with a wall, with a certain tree in the middle, is present at every home (like the Holy Basil in Hindu households). A bigger community Tamla is present at the festival ground where all the major rituals take place. It can probably be considered a microcosm of the universe.
From what I could figure out, it's a long and elaborate affair that lasts several hours. I saw the priest start in the morning and continue till the night. They build sort of an effigy, which is representative of the world, using a local tree, and decorated it with leaves and vegetables. A sacred fire was lit and the shaman involved himself in some ancient chants even as cultural programs continued on the nearby stage. Towards the night, a few chickens were sacrificed and cooked with rice on the sacred fire for the local's consumption. I was told that the sacrifice of larger animals like mithuns and pigs can also take place but this year they were keeping it a bit subdued.
About Mishmis
So, to understand the above developments, you should get some background. If you are even remotely interested in Arunachal you may have heard of Mishmis. In fact the hills in Eastern Arunachal are usually called Mishmi Hills although the region have now been divided into several districts.
Most of the details we know about them are from colonial accounts by British adventurers like the excerpt produced above. (Do read the account by TT Cooper from 1869-70, which is an enlightening read). They encountered them while trying to find a way to Tibet but Mishmis had regular connection with that side and their support was needed to cross these regions.
So, there are three major Mishmi groups as of now in Arunachal. Idu Mishmis, Digaru Mishmis (Also called Taraon), and Miju Mishmis (Also called Kaman). Idu Mishmis generally inhabit the higher reaches of Dibang Valley (Roing Mayodia Anini Circuit). Some related populations are still there on the other side of the border in Tibet. Loliang is a primarily Digaru village but Mijus are there too. From what I learnt, Idus are more distinctive but the other two may be hard to distinguish and also inhabit adjacent areas on the Lohit Valley although there are many linguistic differences.
While discussing Tamladu, there's a need to keep the circumstances. From what I could understand, this community Tamladu is an attempt at preserving the culture and traditions of Mishmis from external influences. In the last few decades, many have converted to Christianity while the younger generations have naturally lost touch with the traditions. In fact, there are churches in Loiliang too although they coexist amicably. I even came across some people who have returned to the ancient religion after some years with the church.
The same thought process led to the emergence of revivalist Donyi Polo in some other parts of Arunachal. The ancient Mishmi religion isn't as organized or widespread as that one nevertheless, it has also managed to make some noticeable improvements with this festival. It can also be seen as a social reform movement. Many of the speakers at the stage (yes, many important local personalities delivered lectures, interspersed with cultural shows), also focused on the same topics, urging Mishmi youth to do better in various fields, preserve their culture, and make the most of the abundant natural resources of their region.
How did I understand what they were saying? Of course, most of it was in Hindi. Due to immense linguistic diversity in the region, Hindi was introduced as the Lingua Franca in the state. So, nowadays it is the most used language here. I'm sure some people may have a mixed opinion about it but as of now they've settled down in this regard.
A Note on Mishmi Theology
I can't get too deep into this with my limited interactions but I'd just like to clarify a few things. The deities may be similar but have different names for different Mishmis. There are many others but for the Digaru Mishmis the main deity is Lord Jabmalo who is worshipped during Tamladu for the welfare and safety of the people, crops, and domestic animals. I may be wrong about this but from my interactions, I thought the deity represents the sun and can take both male and female forms. More research and documentation need to be done in this regard.
Around Loliang: A Potential WFH Destination
So, the festival got over and I slept another night at the community house. The next morning, Mr Tamai insisted that I take a round of the village before leaving. I packed my bags and we started to ride towards Lohitpur, which is a connected village turned into a military cantonment. Enroute, I also noticed tea plantations. This area is adjacent to Assam, so this shouldn't surprise anyone. Apart from that, the locals mostly do jhum cultivation on the hills and grow rice, buckwheat, millet, ginger, mustard etc.
We did some genuine offroading to arrive at a house of Nepali settlers, where we had some rice for breakfast. These people stay here on lease on the land owned by Mishmis. What was more interesting though was that the network signals were uniformly strong even at the remotest parts away from the main village. Mr Tamai also showed me a plot of land that he owns and plans to build a homestay, if tourists start coming in.
After that a bit more offroading took us to a point called Vodaru Shiv Dham, something I never expected to see here. Apparently, someone just stumbled on a large rock shaped like a bull. So, it was considered to be Nandi and a Shiva shrine was built. It can be considered a sign of peaceful coexistence and cooperation as the Mishmis took the effort to develop this route and turned it into a pilgrimage plus local tourist spot. It takes a short hike through the jungles and you need to cross the river too. Do note that Parshuram Kund is not far from here and that has been a pilgrimage for a long time.
The final stop for us was the factory of Exotic Arunachal. I'd seen these products at the stalls at the venue and was pleasantly surprised to find that they are locally made and packaged. So, I met mr Johakso Manyu who has started this venture. He's basically using certain solar powered gadgets to dry up oranges, kiwis, pineapples, bananas, star-fruits
etc and packaging them. I bought a couple of packets before we bid adieu.
So, this was more or less about it. Mr Tamai dropped me at Tezu and I returned. But I believe that there are various untapped opportunities in this region. This area has good roads as well as good data connectivity (But these are also new developments until a few years ago you had to cross many of the rivers on boats to reach Tezu from Tinsukia). So, one can easily spend longer durations here and use it as a base to explore other parts of the circuit. Loliang is located at the foothills. So, small trekking expeditions can be done into the hills if developed by the locals. Since the neighboring Dibang Valley is known for birding, I think the same can be done here too.
A Quick Guide to attending Tamladu Festival
When does Tamladu take place?
Tamladu takes place between 13-15th of February every year. The last day is usually the most important when the main rituals take place.
Where can I attend Tamladu?
It is like Bihu, Durga Puja, or Garba. It is organized at multiple places by the locals in the Lohit Valley. So, you need to be clear which one you want to visit. There is one in Tezu town too and then there were the likes of Wakro and Goiliang. For a more authentic experience, I'd suggest you visit one in a more remote area.
What to Expect?
You have to make some effort to get into the crux of the event. There'll be a lot of modern influences, music, and dance but talk to the locals to visit the main rituals and understand it. It can be a delight for photographers who are into ethnographic portraits. You can also explore other attractions in the region after the festival.
How to Attend?
They are just beginning to promote it as a major event. If you want to attend next time, look for announcements in late January early Feb (just search for #tamladu in Insta or FB). That's how I got there by seeing some posters. Otherwise, you can simply go to Lohit district and ask around. You can combine it with other attractions of the circuit.
How to reach Tezu?
It's very easy. Reach Tinsukia in Assam which is well connected through bus or rail. From there you'll easily find shared cars and buses going to Tezu throughout the day (it's a short trip of around 3 hrs). There is a airport in Tezu too and I heard that they are trying to start regular flights from there.
Where to Stay in Tezu & Loiliang? 
There is actually a homestay en route to Loiliang but seemed a bit costly for my budget. Nevertheless, you can try that option too. Personally, I found a place to survive for two nights. Carrying a tent can give you more options. Also, Tezu itself has 3-4 hotels at various price ranges.