Shillong was a bit somber. The winter was not yet visible but one could still sense it. Sunshine was mostly absent and the sky was gloomy, not like that of the seductive monsoon but like the characterless and dull one of the winter. Due to time zone issues, it also got dark by 4 pm like any other place in the North East.
It was a weekend detour to visit my uncle as a part of my yearly homecoming. I basically had only one day to explore anything and the season was also in its fag end. The hills in Meghalaya mostly dry up in the winter, much like the Western Ghats and but there is no redeeming snowfall unlike the Himalayas. However, late October was still not that barren. Shillong was full of seasonal blossoms and the hills were still green.
We decided to take a day trip to the famous village of Mawlynnong. But I will describe that part in the next post and as of now I am limiting myself to Riwai Village. This is the village just before Mawlynnong. As far as I could see, they are also imitating the same model as its more famous neighbour and have embraced tourism as the route to prosperity.
Among other things, the village has one of those famed living root bridges, the ultimate bioengineering spectacle of Meghalaya. There are more famous and bigger examples of the same scattered all over the state but I had never seen one before and so was glad to finally cross one. The robust roots of ancient banyan trees are "directed" manually to cross over the small streams to build these bridges. We climbed down to the gradually drying stream to get a better view of the bridge.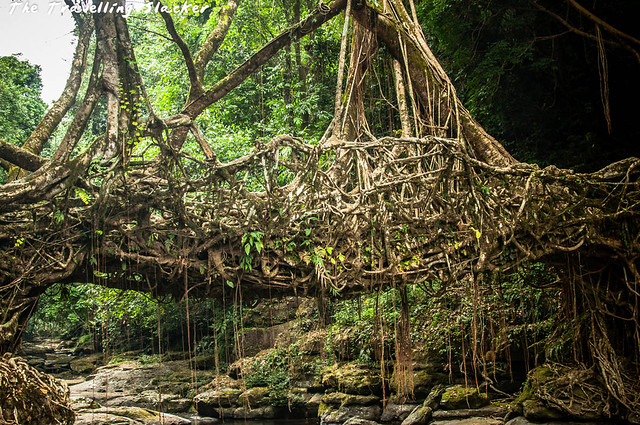 Riwai itself is a neat village full of Robab Tenga (Citrus Maxima) trees, all laden with ripe fruits at that point (Most self-respecting Assamese will be able to tell you some nostalgic stories about this fruit). Emphasis on cleanliness and sustainability was visible. Even the dustbins were made of bamboo. Locals sell the aforementioned fruits, betelnuts, eggs, tea, water and snacks to the visitors.
Seasonal flowers were in full bloom and as expected, the butterflies were having a good time too. Meghalaya in general is known for butterflies. So, I spent a lot of time chasing some of them. But I will do a different story on butterflies as I have a lot of images. We moved ahead to Mawlynnong after a couple of hours at Riwai. I will be back with that story soon.