Kaziranga Orchid Park: Trying to Save What We Are Losing
Akhil Gogoi's Orchid Garden at Kaziranga has been in the news ever since it's inception. For the uninitiated, he is generally known for his confrontational brand of street politics and activism a la Kejriwal but to his credit he has not participated in electoral politics of Assam so far. Anyways, in the recent months he has been busy setting up this park, a constructive effort for a welcome change. I visited it during the Kaziranga trip last November as it is located nearby. But let me first discuss why is it important.
In the olden day, travelling to exotic places during a vacation was never an option. Back then in the 90s, the Indian middle class had not yet discovered the joy of travelling, let alone glorify it. During most of the big holidays, the only place I got to visit was the ancestral village. Nevertheless, such trips introduced me to a few things such as local farming practice's and types of crops. The villages were mostly poor and modern equipment were rare. I never saw a tractor and people mostly tilled land with oxen and plough. However, it was still rich in something. It was biodiversity. You may think those paddy fields as a generic lot but actually a vast array of different crops were regularly being cultivated.
Of course I did not realise it back then. But as I moved out of the state later, I realized the variety that was available back home and was surprised to see that some of things that we took for granted were hard to find in other parts of the country. Now, I do no want to say much about biodiversity as I am no really an expert but I am sure everyone is aware of its importance and also about the gradual decline in the number of species of all kinds apart from our own. Most of the native crops and cattle species are being gradually replaced by lab-created hybrids that offer short term benefits by no one exactly knows the long term implications. This park is an attempt to preserve the biodiversity we seem to be losing.
The first thing I came across is a big green house full of orchids, collected from all over North East. Some local youth have been employed here to tend to and guide the visitors.
Rest of the plot is full of other type of herbs, plants and flowers. There is also a photo gallery of orchids with names. Among other things, I learnt the name of one particular orchid that has been maintained for decades by my parents back at home. We never knew its name but now we do. It is, Phaius Tancarvilleae and here is a picture from home and not from that park. It blooms in spring (March-April) every year.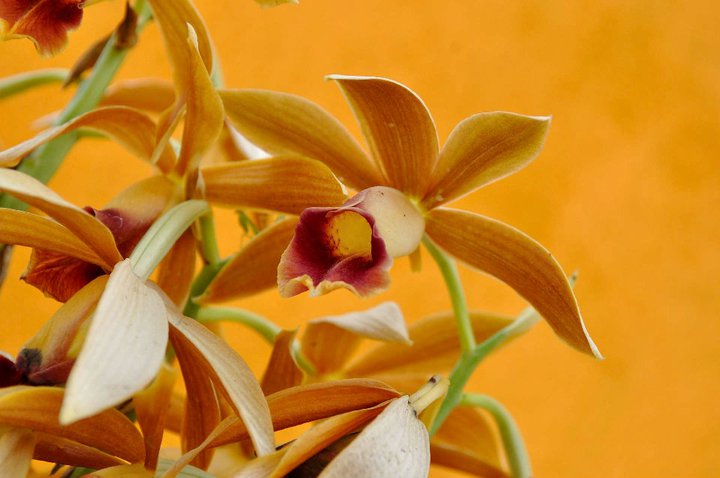 Apart from that there is also a "seed bank" that intends to protect aforementioned local crop species as well related information such as their names in local languages. There is also a provision for local food and performances by folk artists although it did not particularly interest me.
So, this park is an attempt to collect scores of native crops and plants, preserve and cultivate them and increase awareness. We will have to wait for some time to see how far it goes but let us just say that it is an important task that requires attention. Also, let the name not mislead you. It is not only about orchids but intends to collect all sorts of plant species and educate visitors about local farming practices. It is located slightly ahead of the main entry point to Kaziranga at Kohora. In case you do not find it, just ask the locals.
On the flip side, they were charging INR 500 to anyone with a DSLR apart from the entry fee. I am just getting tired of this increasing hostility towards DSLR owners at many tourist spots in this country. First I faced it in Namdapha. Everyone owns a DSLR nowadays and that does not make them professionals. If good pictures circulate on the internet, it will only do free publicity for these places. But nobody seems to be getting them. It frustrates me not only because of the money but because it indicates a typical archaic mentality that is prevalent in the Indian bureaucracy that fails to understand technological advancements and their implications.