Asola Bhatti Lakes: Nameless Delights of the Lawless Backyard
"Well, I can't stop you if you want to go… but be careful as things can happen…", said the local guy we came across at the entry point with the usual smugness of the Delhi NCR folks. Sorry for the stereotyping but anyone familiar with the city would recognize that tone.

———————–
Desolated and pristine lakes are not something one expects to see anywhere near Delhi. However, those who like to explore have been aware of many such entities over the years. Most of them are found outside the southern border of the city, in Haryana. Some of the more famous ones include Damdama and Badkhal. But today I am talking about the practically nameless ones inside the Asola Bhatti Wildlife Sanctuary on the border of Delhi and Faridabad.
I started early on a cold December morning and reached Badarpur Metro Station. From there, a bus took me to Prahladpur crossing where I made the rendezvous with a couple of eccentric Delhi musicians as planned (Here is an example of their work). We took an Autorickshaw to the Manav Rachna University. The unmarked and innocuous-looking trail starts just opposite the sprawling university campus. The trail is also visible on the Google Maps in case anyone is wondering.
Apart from the desolation, partly the charm of these lakes lies in the lawless nature of the area. New constructions notwithstanding, this is primarily a jungle area where any crime can be easily committed. Apparently, most smugglers and bootleggers also avoid the highway and use these jungle trails to enter Delhi. The primary vegetation on this rugged terrain is a certain kind of thorny plant that does not make the task easier. Overall, it reminded me of the ravines of Chambal, another area with a history of violence and lawlessness.
Nevertheless, we moved on and soon arrived at the first lake. But we left it for later as we were eager to see how far one can go. The arid Aravallis make one thirsty very quickly. So, we were feeling tired by the time we reached the second lake. However, it was a bigger one and had a very pleasant bluish-green shade. After some effort, we found the way down to the edge of the lake from the trail which is located at a higher altitude. All these lakes were created as a result of mostly illegal mining activities. The water of incredibly clear here and from a closer range, on can also see the flora and fauna under the water.
After spending some time, we came up again and moved forward looking for the third lake. It was more or less similar but I felt that the previous one had a prettier tinge. We saw a peacock and some other birds in the vicinity too. But more importantly, we started hearing a lot of human noise. There was another troop, probably drinking themselves to oblivion.
Google Map showed at least 5 lakes but we had run out of drinking water by then. So, we decided to come back and check the first lake. This one is completely dominated by monkeys. They did strike some pretty poses on the edge of the cliff but eventually, too many of them gathered for comfort as I threw a couple of biscuits. They were also beginning to eye the jackets and bags so we decided to call it a day.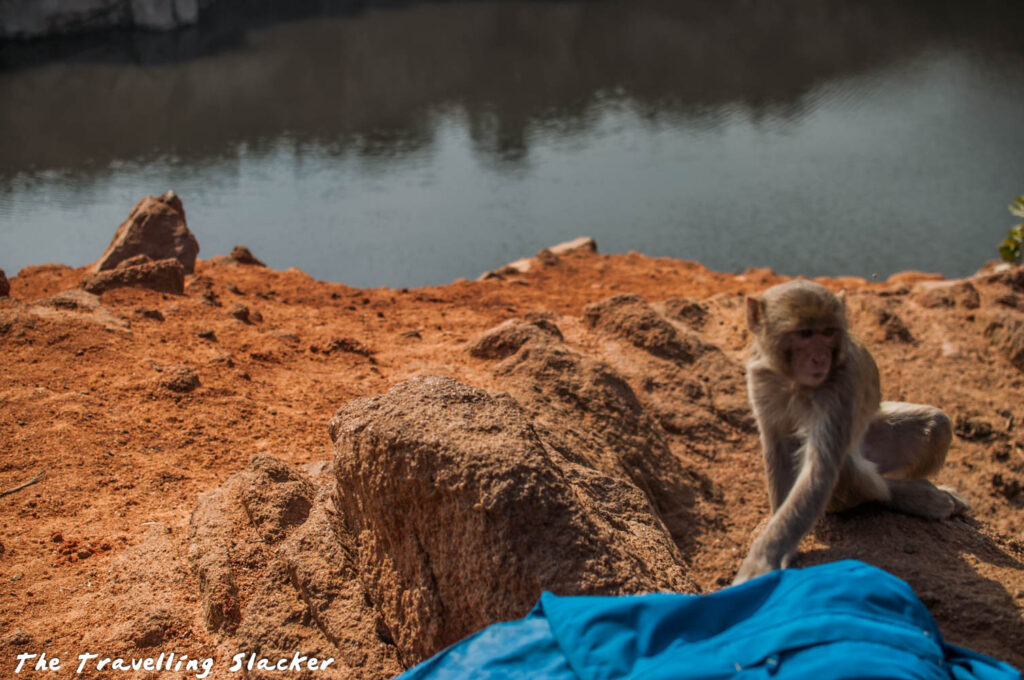 It was a quick morning trip and we were done within a couple of hours. I think anyone else planning to visit them should do it soon. Because while I have mentioned the pristine nature of the lakes before, I must admit that it is not as desolated as I'd have liked them to be. The banks of the lakes are gradually beginning to pile up plastic bottles and other usual suspects. It is still much cleaner compared to more popular destinations inside the city but it is only a matter of time.