Sikkim has suspended all tourism-related activities as of now due to the Covid-19 situation t least till September 2019. They will reopen for tourists only in October 2019, that too if the situation improves. Will update in case of any new development.
———————–
I need a Trek!
I exclaimed, after being driven around Sikkim for several days through some of Sikkim's most popular and hence crowded destinations. Since winter is not exactly the time for serious trekking, Yogesh of Sikkim Cab Rental Co, who was hosting us, suggested that we make a short day hike to Tendong Hill near Namchi. While obsessing over the higher mountains of North and West Sikkim, I had never really thought of South Sikkim as a trekking destination as it is lower and closer to the plains but anyway, decided to go for it along with Jacomijn and Abhinav, the other two bloggers with me.
The car left us at a place called Damthang Bazaar, around 13 KM's from Namchi and a few kms before the famous Temi Tea Garden. It was sort of a small roadside marketplace with area shops and a couple of stairs going upwards. There was no signage regarding the Trek and nobody could tell us exactly how many KMs we have to Trek. We had googled it earlier and came up with diverse and unreliable results.
Anyway, the local shopkeeper showed us a small staircase going upwards just besides his shop, and we started our hike. The flight of stairs soon disappeared and we entered a jungle trail. The next 30-40 minutes were a fast a pleasant hike as the altitude was gained gradually and there were a lot of flat portions. The weather was disappointing, with a dull hazy sky but the forest was more exotic than we thought. We spotted some gigantic, larger than life ferns, and some strange fruits as we passed through. The thick forest was offended interspersed with bamboo groves.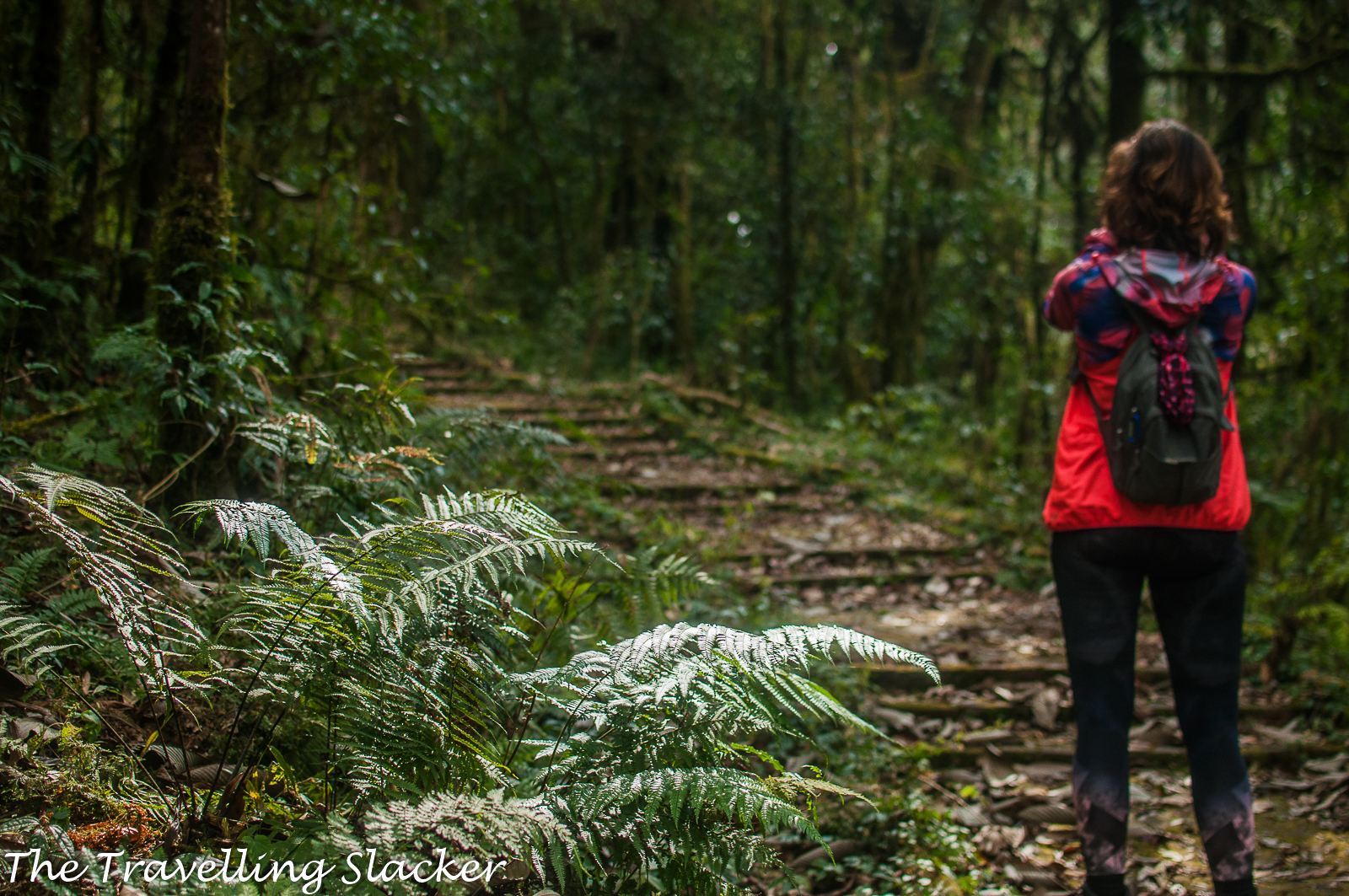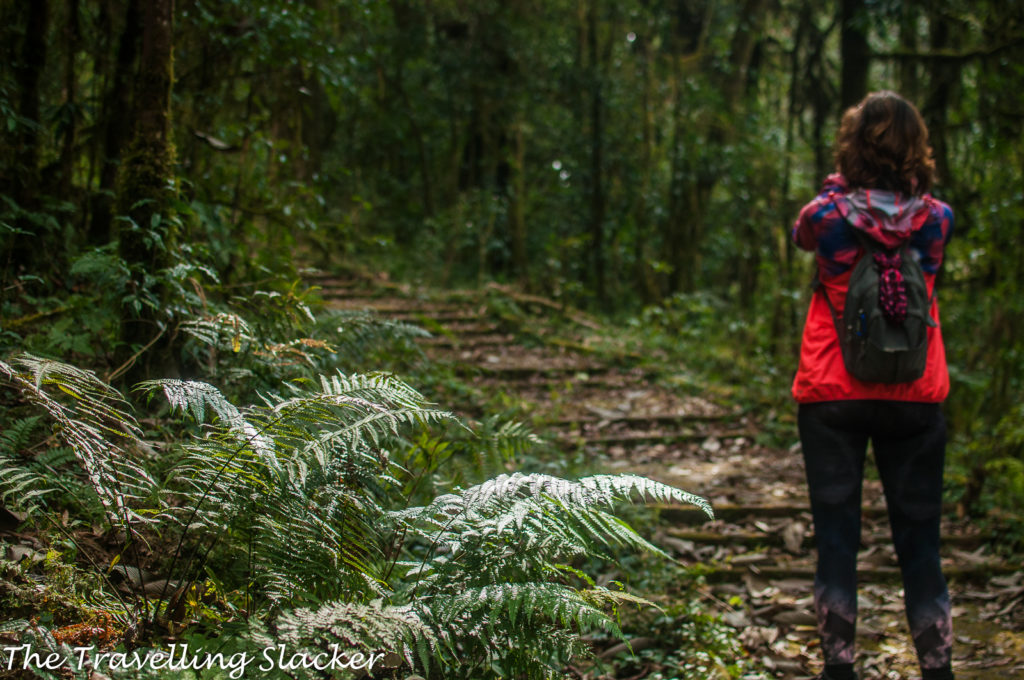 After around 40 minutes, the climb suddenly got harder. The trail was now steeper and there was no sight of the end. We still didn't know how far it was and we could see only thick jungles ahead of us. We took a short water and biscuit break and moved on.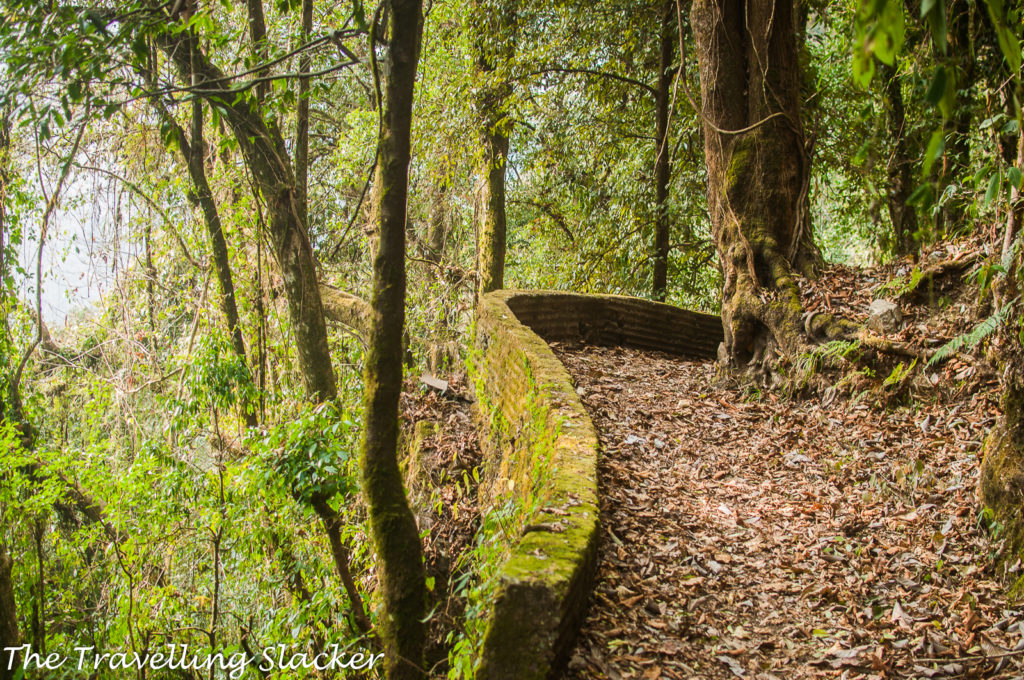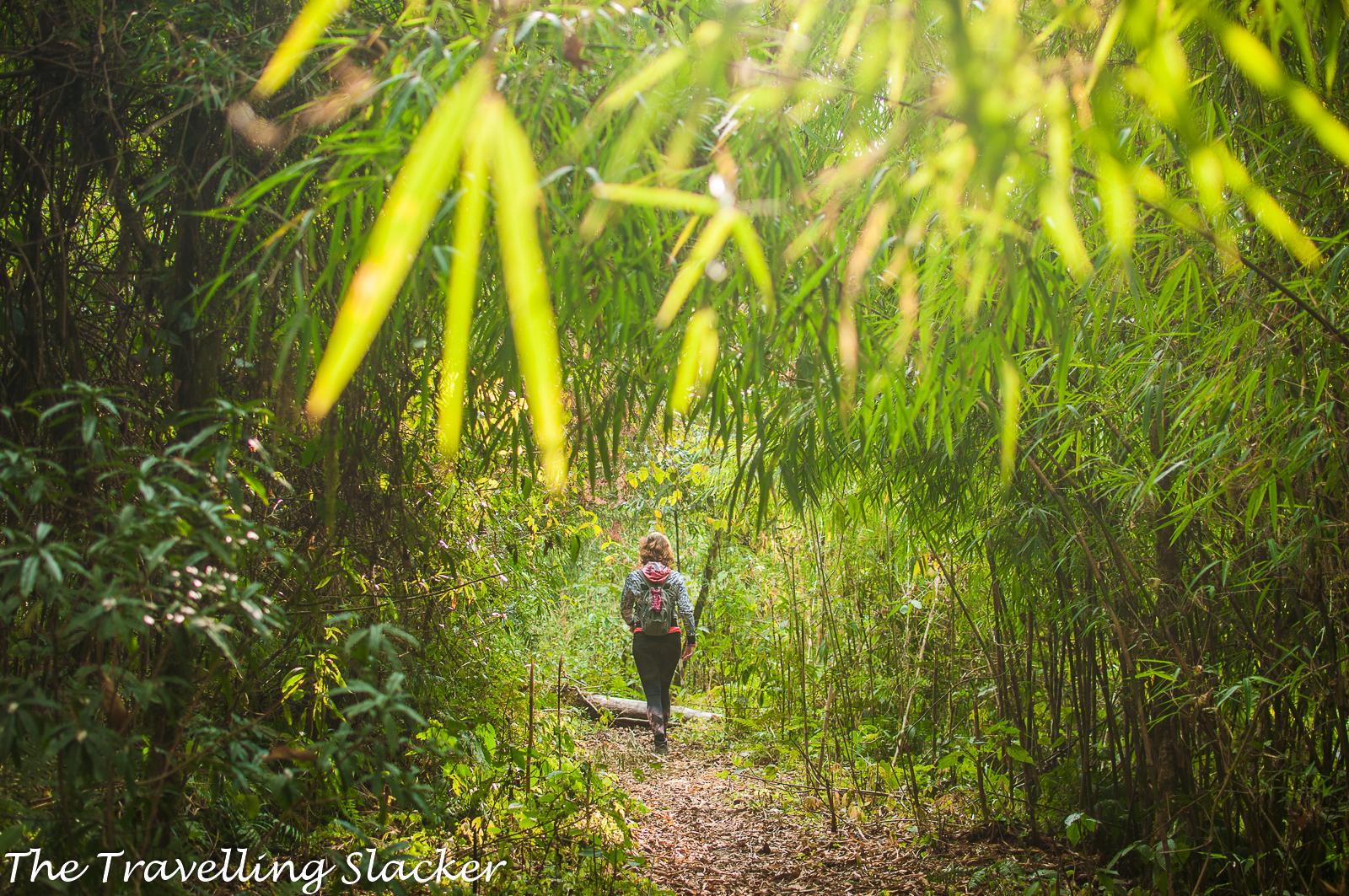 After another 45 minutes, we were getting really tired and that is exactly when we noticed the sign Tendong Gumpa. Several trails were you going forward but now we knew that we had reached. We took one going towards the left, found a spot adorned with prayer flags, followed by a puzzling pagoda shaped building that seekers and ones. There were several other structures and I think they come alive in the summer season when locals visit it for various rituals. But that day, there was no one.
Interestingly enough, we had no clue about the place and were just expecting to have a good excercise, reach a hilltop, and get panoramic views (depending on the weather). The weather itself was not cooperating and the distant peaks were not visible. However, we soon found out that this was no ordinary place but a Lepcha Heritage Site. So, I thought I was doing a trek but was a actually a heritage walk all the while!
For the uninitiated, Lepchas are the original inhabitants of Sikkim, who now share the area with people from neghboring Bhutan and Nepal. So, as per the local legends, some of the Lepcha ancestors climbed this 2600 meter high hill to survive a great deluge that swept Sikkim. This story indeed is strikingly similar to many other stories of great deluge from various better-known mythologies. What does it mean? Is it a mere coincidence? Does it indicate a common beginning of these stories even before various major races got segregated?
The hilltop at Tendong has multiple structures. The buildings are definitely new but the stone sculpures scattered around the hillock are definitely ancient. Buddhist prayer flags are omnipresent but I am sure the original structures date back to pre-Buddhist times. Nowadays, the festival of Tendong Lho Rumfaat is celebrated here every August to commemorate that event and is a major state holiday in Sikkim.
We spent around 30 minutes at the top. It was only 2 PM but it was getting very dark and so we started returning quickly. It took another hour to return and meet our driver again. I was trekking after several months. So, although a short one, it made me feel like I had earned the Tongba (local millet beer) that was waiting at the hotel.
Tendong Hill Trek Guide
How long is the Tendong Hill Trek?
As per my understanding, the Tendong Hill Trek is around 3.5 Kms long (2 KM easy, gadual ascent + 1.5 KM steeper ascent towards the end) from Damthang Bazaar.
How much time does it take for the Tendong Hill Trek?
It took us around 1.5 Hrs to reach the top and 1 Hr to come back to Damthang. However, the speed will depend on your individual abilities (I have seen some accounts that claim to have taken 4-5 hours for this).
What to see atop Tendong Hill?
It is not just a trek but the hilltop is a heritage site which is of great signifance to the local Lepcha people. You can also try doing the trek duing the Tendong Lho-rumfaat festival in August to best experience their culture.
Are there any shops or facilities atop the hill?
I did see some additional huts that looked like shops but there was no one in that winter afternoon. However, I think they will be there during the peak season.
How to reach Damthang Bazaar?
From Namchi you should get shared cars to reach Damthang, which is the starting points of the trek. If you have a vehicle at your disposal, it is even easier. It is only 13 Kms from the town on the road going towards Temi Tea Garden. The road towards Ravangla also bifurcates here.
Where to stay for Tendong Trek?
Namchi is the closest major town for the Tendong Trek, which has many hotels. We stayed at Hotel Luitel Residency near the Sai Mandir, which had a homestay feel with a good host, food, and of course, Tongba.