Although I have made many posts on various parts of Pangi Valley, I think I never made a proper guide. It is partly because I thought it is the kind of experience that needed to be "earned" rather than spoonfed. However, things are changing gradually, more and more people are now becoming aware of this place although it still remains remote. So, I think I need to do this guide now before those content mills with their autogenerated pages get there.
Pangi Valley Travel Guide
What & Where Exactly is Pangi Valley
Pangi is a subdivision of Chamba district but is cut off from all sides by high mountains of Pir Panjal & Zanskar Ranges, connected only through seasonal roads that generally close down in the winters with excessive snowfall. Not many people visit it and there are very few documentations available, the most prominent one of them being Minakshi Chaudhry's book and even that one is not always available at the stores.
Have a look at the map below. It is a very rough map, just to give you an idea about the route. The area within the red circle is what we are focussing on here. There are many villages and routes inside that circle but too much of it will be confusing and you will not understand it untill you get there yourself.
Understanding Pangi Valley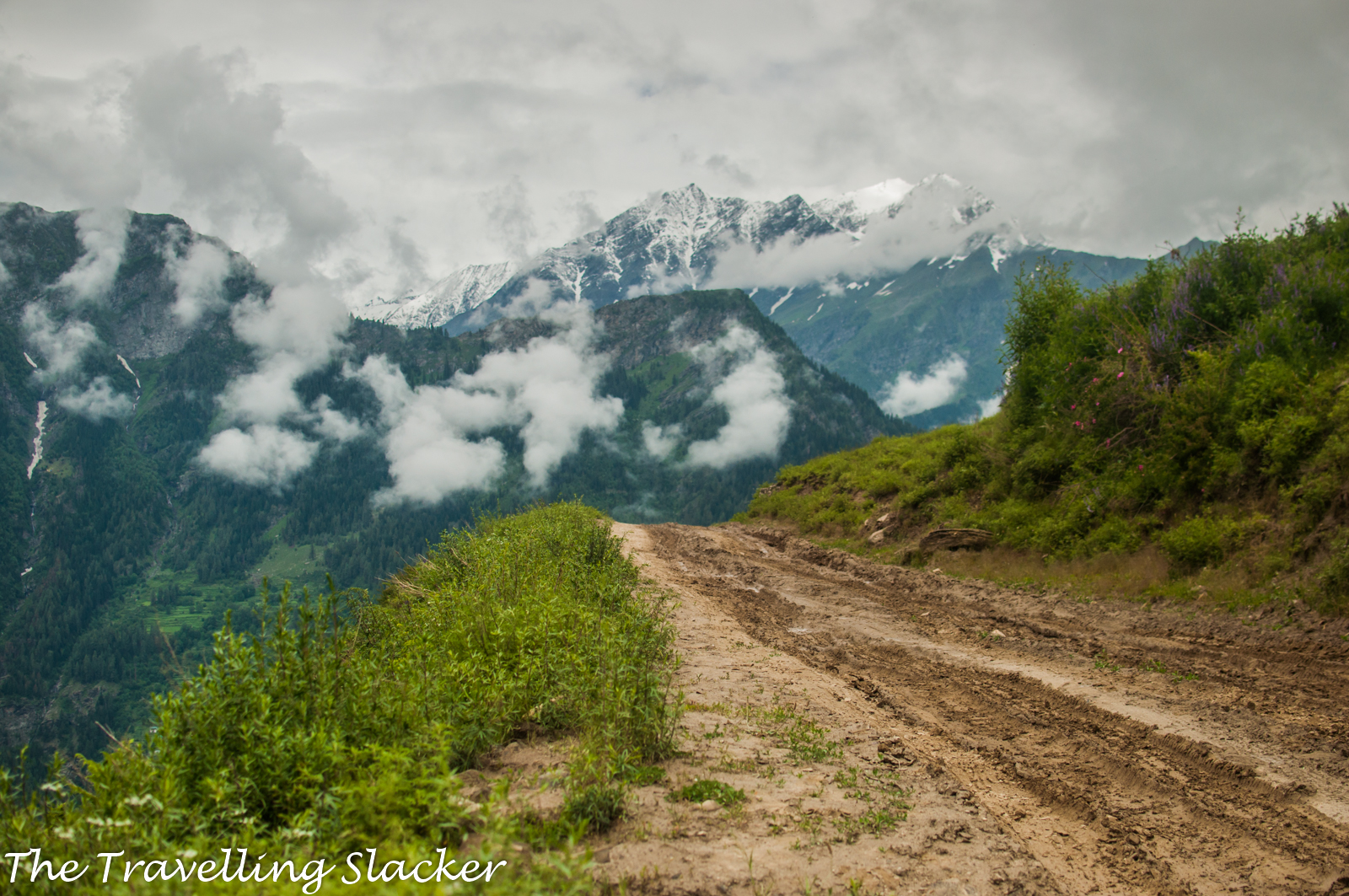 I wrote the following on the valley in an older post… let me reproduce it here…
"It is practically the last frontier yet to be broken by the Himalayan tourism boom. In the olden days, it used to be a site for Kala Pani (exile) for criminals of Chamba Kingdom. Even now, at the expense of sounding like a self-righteous snob, I want these people to remain oblivious of those possibilities, and the resultant squalor, pollution, and degradation that accompanies the same. But I know, it is only a matter of time.
I have seen many maps and trekking guidebooks of Himachal that end exactly where the Pangi Valley should begin. This has remained invisible to most of them except one or two exceptions. And this invisibility is not a mythical or exotic one. It remains practically ignored for some inexplicable reasons."
So, basically the valley is nurtured by the Chandrabhaga (Chenab) river. However, there are several hilly rivers that are tributaries to the main river. All these small rivers form their own sub-valleys. Each sub valleys have several villages and all of them can be attractions on their own.
Now, before going any further, let me explain a few things about the region. Pangi is actually not one valley but a combination of several sub valleys. These narrow sub valleys are nurtured by narrow hilly streams that eventually join the Chandrabhaga that cuts through rugged terrains of the valley.
Sural, Hudan, Parmar, Saichu, etc are some of those sub valleys. Every sub valley has a series of villages leading up to the top (generally at altitudes in excess of 3000 metres). Interestingly, lower villages are generally Hindu villages but the last ones are Buddhist Villages called "Bhatoris" as they are inhabited by "Bhot"s or Tibetan Buddhists. So, at the end of Sural, there is a village called Sural Bhatori while at the end of Hudan there is one called Hudan Bhatori, and so on.
How to Reach Pangi Valley?
As you can see from the map, there are three different approaches to the valley.
1. From Chamba to Killar via Sach Pass
You can catch a morning HRTC bus or a shared car from Chamba town. Remember, it is a very long journey and you will reach by afternoon, that too if nothing goes wrong at the top of 4400 meter high Sach Pass. Naturally,  this pass opens for traffic only around June and remains open till early November. Beyond that, it remains closed. Buses cost INR 1.8 rs per KM while shared cars charge INR 600 per head from Killar to Chamba.
2. From Keylong via Udaypur
The easiest way is to catch the morning at 6.30 AM bus at Keylong to reach Killar. The bus stops at Trilokinath and Udaipur. It is a more straightforward road, however, you will have to reach Keylong the previous day from Kullu-Manali, crossing the Rohtang Pass. So, this was also not possible in the winters. However, with the completion of the Rohtang Tunnel, things are going to change now.
3. From Kishtwar to Killar
This route is even more sparingly used and treacherous than the other two. I don't think it has any buses running. Only extremely adventurous people with their own bikes and cars normally try it. Also, to get there, firstly you have to reach Kishtwar from Jammu. That itself is something that very few people try.
So, generally, my preferred way is to enter via Keylong and coming out via Chamba. This makes it a complete circuit like now popular Shimla-Spiti-Manali circuit.
Local Transport in Pangi Valley
There are local buses running from Killar to various sub valleys. Frequency depends on distance. For example, Hudan is the nearest and so the bus plies thrice a day and comes back to Killar. Sural is a bit further and so it happens twice a day. Other places are even more remote and there may be only one bus in a day.
Where to Stay in Pangi Valley?
As an unexplored place, Pangi has very few stay options for tourists. Killar had two hotels and a homestay when I last visited. This is where most people stay and make day trips to other areas I recommend Chandrabhaga Homestay. Hudan Bhatori has a government accommodation (I forgot it was owned by Forest department or PWD). Anyway, as far as I know, you need to get a permit from main office in Chamba even to stay here.
What is the best time to visit Pangi Valley?
As mentioned already, the place used to remain open only between June to October. However, with the completion of Rohtang Tunnel, things are going to change. Still, I feel that the summer and monsoon months are better. The vegetation will be similar to Lahaul but not completely dry like Spiti.
Internet and Phone Connectivity in Pangi Valley
Till my last visit, internet connectivity was almost non-existent in the valley and only BSNL SIM worked for calls. I am sure it will improve with time.
Top Places to see in Pangi Valley
Killar
Killar is the headquarter of Pangi, connected to Keylong & Chamba with bus services. Killar is basically what Shimla must have been 100 years ago. It is a very small town with a few thousand inhabitants. Some government buildings are the most prominent structures here and all private buildings are generally traditional wooden homes although concrete is beginning to overtake nowadays. Most shops and restaurants are located along the main road that passes through the town. As of now, there are two hotels and one homestay in the town.
Hudan
Hudan is a sub-valley with 4-5 villages, with the last village being Hudan Bhatori. There is a small pond or lake beyond the last village, located in an open meadow, where a yearly fair is organized. There is also a government-run herb garden growing some exotic stuff that are exported to big pharma companies from what I learned. This is the closest from Killar and hence the best bet for tourists in enjoying the best of the valley. I have been there twice, on both occasions I hiked up from Killar instead of taking the bus (its around 12-13 KMs). As far a steh views are concerned, just have a look at the images in these two posts…
Sural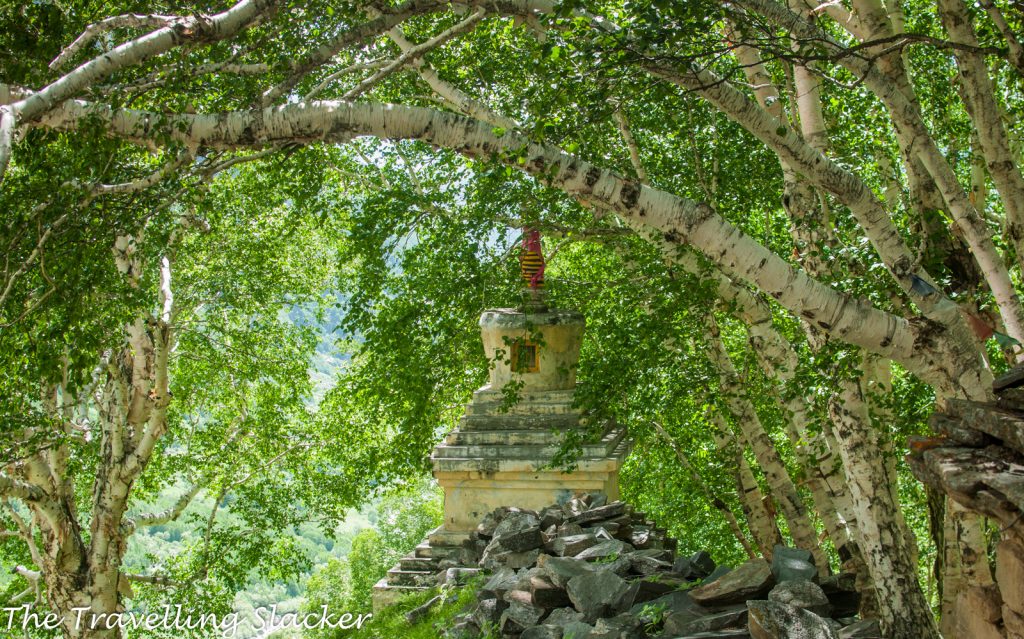 Sural is the other major tourist attraction, around 22 KMs away from Killar. It has a major monastery at the end of the village, located in a grove of Bhojpatra (Himalayan Birch) trees. They use the barks of these trees to write sacred texts… like good old times.
Mindhal
Mindhal is a small village that you will cross if you are reaching Killar from Keylong. It has a temple called Chamunda Devi or Mindhal Mata, which is the most important deity in this valley. It is around 12 KMs from Killar and you will find buses.
Saichu
It is another beautiful sub valley watered by Saichu Nullah. There are many villages in this valley. As far as I know, there is a bus to Saichu too and it is a bit far and I have not explored it yet.  Another one called Chasak Bhatori can be reached from here as far as I know.
Parmar 
This is another sub-valley with three villages called Parmar, Kumar, & Parmar Bhatori.
Hillu & Twan
A pair of very remote Buddhist villages. I have never even seen photographs of these places.
Trekking in Pangi Valley
While there are immense possibilities of trekking in this valley although they have not been explored much. Trek routes connect it to Zanskar but I have never met anyone who has done it. There are also dozens of local treks possible. The one I am thinking of is the Tingloti Pass trek connecting Hudan & Sural sub valleys. There are also good treks towards Saichu.
Pangi People, History & Culture
Pangi has an intriguing but opaque history & culture. There is no doubt that this region has been inhabited since ancient times, but still not much is known about those parts. In tgeh medieval times, it was a part of the Chamba Kingdom. Due to its remoteness, it was used as a place of exile by the Kings. The population here is also a mix of usual Indo-Aryan stocks you can find in other parts of Himachal, along with some Mongoloid folks of Tibetan origin (Bhots). As a result, both Hindus and Buddhists can be found here and generally, in every sub-valley, the lower villages are Hindu villages, while the last village higher up is always Buddhist, called a Bhatori such as Hudan Bhatori & Sural Bhatori.
Pangwals have their own language, culture, dress, and festivals but much more research and documentation required in this regard. Newer generations do not usually dress in their traditional apparels but occasionally you get to see elderly women wearing traditional jewelry and headgear. I have seen many of them but I generally feel awkward clocking portraits. Maybe next time.
Pangi Valley Video
If you are interested in moving images, here is a collection of footages from my 2017 trip.