I'd been planning to explore Lug Valley (Lag Valley) for a long time but it was not working out. Primary reason here is that it's not that touristy and there is a lack of accomodation as well as information about the place. It's not because the valley is remote. It's very near to highly touristy areas of Kullu-Manali. However, apparently the people in this valley preferred to maintain their traditional ways (which is not a bad thing considering the state of some fo the touristy spots in the vicinity).
Nevertheless, last summer I finally took a trip to the region. It was supposed to be an easy day trip but turned out to be an battle for survival, as it usually happens to me. Nevertheless, now at least I know what Lug Valley looks like.
So, I was already in Kullu and decided to try Lug Valley with Shubham. We reached Dhalpur and found the bus stop from where we could see a diversion going upwards. This was the way to Lug Valley and we choose to wait here and quickly got a bus.
This route goes upwards quickly and within a few minutes we left the crowded Kullu town behind and entered a very pristine territory. We crossed villages after villages, orchards after orchards, as the Kullu Valley gradually disappeared from the horizon.
From the colonial times, this area became know for timber trade. Apparently this is the area where the concept of using cables and trolleys for transportation was first used by the Forest Department, which has now become a common feature in Himachali villages, especially around Kullu region.
Coming back to our bus ride, eventually at one bend, it stopped and told us that we have reached. However, as it usually happens, the driver was wrong and it was the beginning of a bumbling day.
We soon realised that we were far from our target. There was a shop out there with a few people and they verified our doubts. There were two ways ahead of us, the main road that the bus took after dropping us prematurely, and another smaller and bumpier road which was apparently a shortcut as per the locals. There was also a small pick-up van waiting outside the shop and it was planning to go that way. So, we got lift and enjoyed the bumpy ride till it lasted.
After a while the driver dropped us again and showed us a small hiking trail going upwards. Apparently, that was going to connect us to the village we were planning to go. So, the unexpected hike started, for a while it looked like a bad idea as there was hardly anyone and no signage too. Nevertheless, we followed instincts and after an hour or so reached a village, where people confirmed that we are on the right path.
Finally, after a significant ordeal, the upward hike ended and we suddenly found ourselves in front of a vast green meadow that reminded us of Upper Neahi. This is the heart of Bhalyani, a big sprawling village. It also has a nice Krishna Temple and a few shops. We tested for a while and talked to the villagers, who gave us further directions.
We continued the hike through another route, crossed a picturesque spot where the wheat had turned golden amidst green apple trees, and finally reached the upper village from Jathani. We came accross another temple but the weather had started to deteriorate. A strong breeze was blowing which is creating ominous sounds by shaking the wooden pieces dangling from the roof of the temple. Watch the video at the end of the post to see what I mean.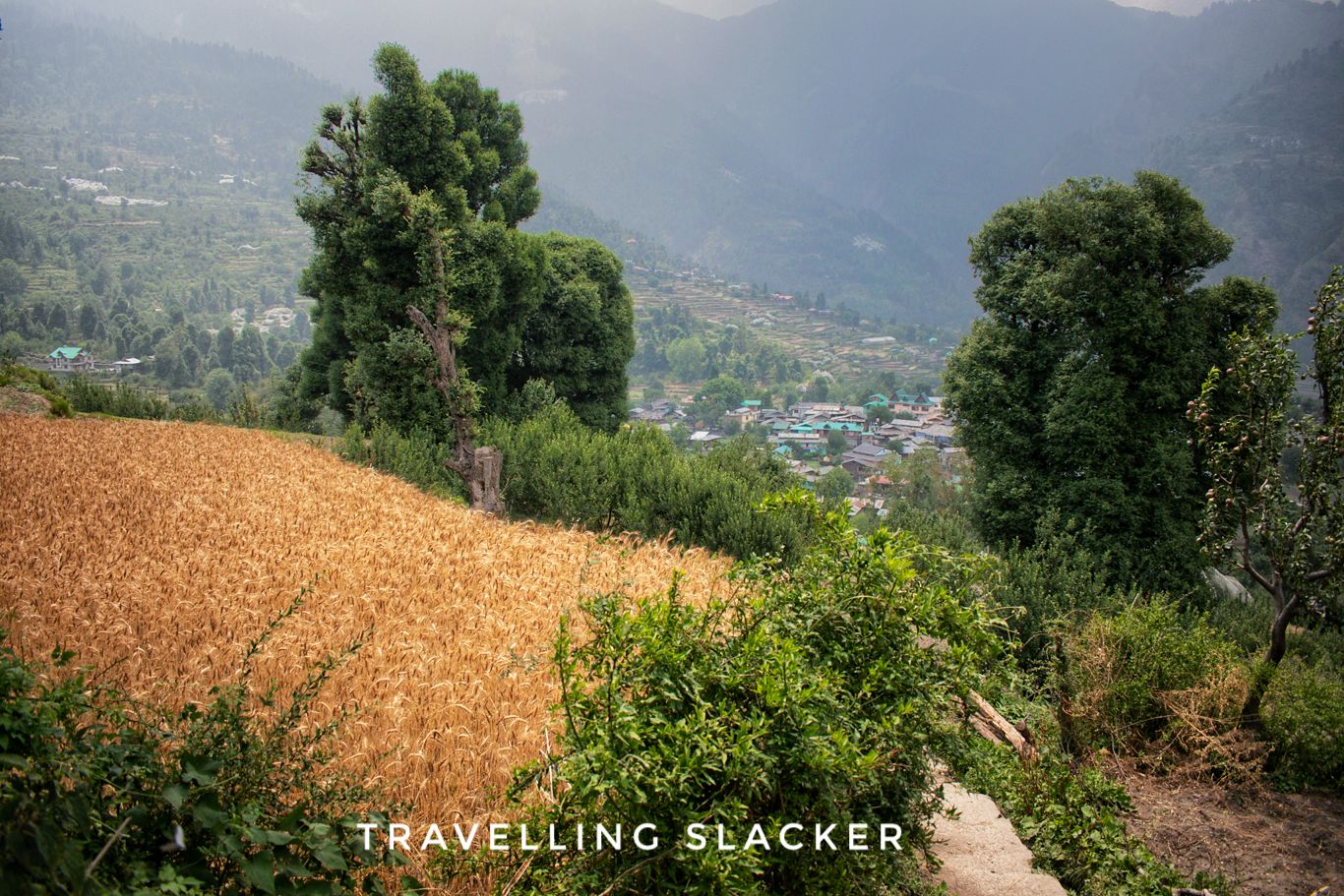 Anyway, we crossed the village and entered desolated territory again. We could see the horizon and a local cow herder confirmed it too. It was getting tiresome and the sky was all dark. Anyway, after significant effort, we finally reached the meadow of Matahsaur, the ground of Mata Fungni.
It is actually a very small shrine, a wooden Hut with the deity inside. People visit it during certain festivals but at that moment there was no one. The whole ground was covered with coniferous forest but the ground in the middle was wide open, with a few cows and even a few horses. However, just near the temple was a "lake", not the usual lake but those grassy wetland such as Pundrik Rishi Lake.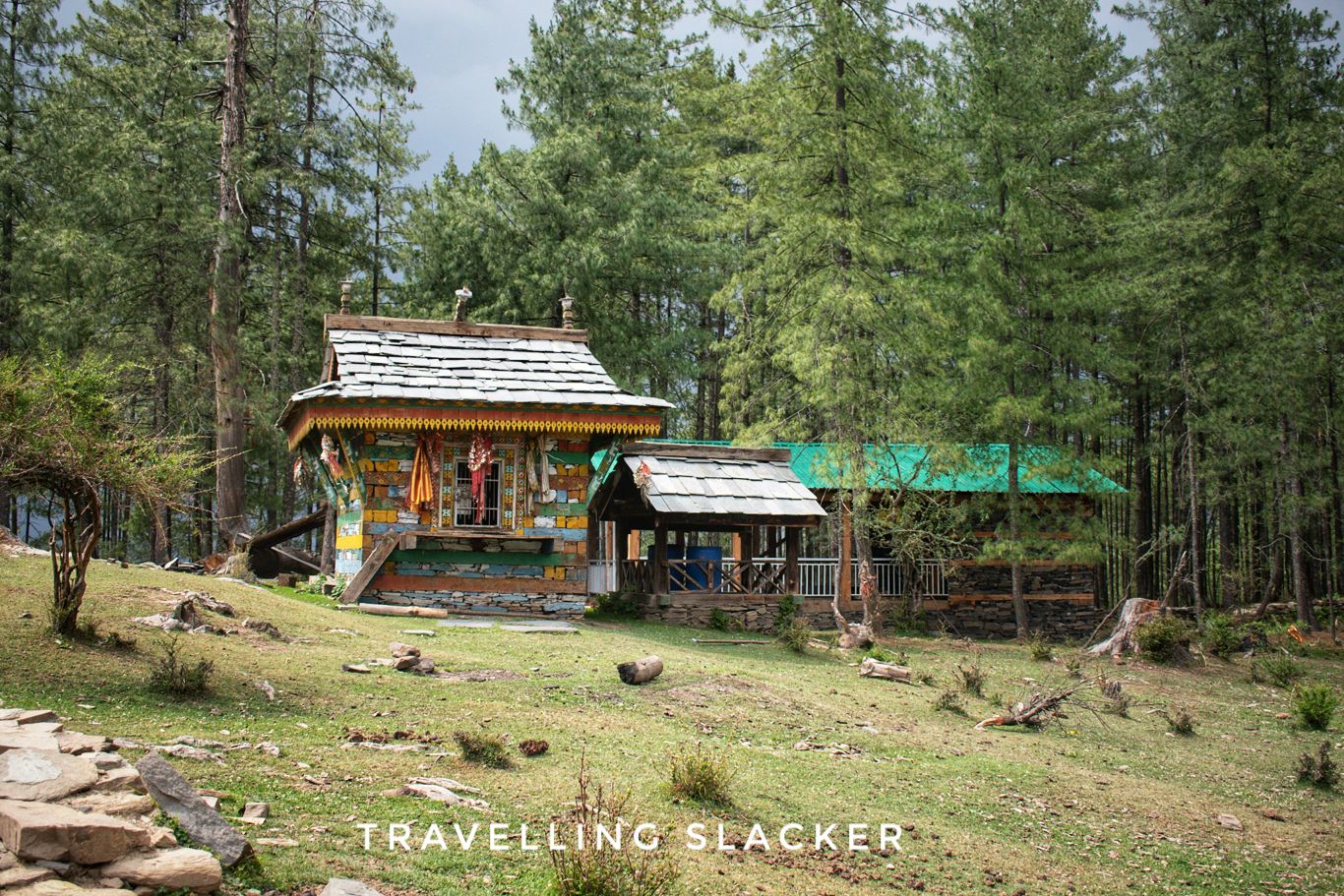 We enjoyed the meadow but didn't get too close to the temple because wee were still hesitant. In absence of locals, we didn't know if we are even allowed to enter. Instead we enjoyed the views and clicked photographs for a while and then, we made a major mistake.
Instead of returning the same way, we decided to cross the ground and take another route as mentioned by the villagers earlier. We were not sure but went with the instinct but this is when the rains finally started! I don't have any photographs of this part because I had to protect my equipments and by the end of the ordeal I was in no shape to click anything.
Now, the villages below were not that far and we would have reached easily. But the rain changed everything. It was not monsoon yet and the rains were unusually strong. For me the biggest problem was of course my glasses, which made it difficult to see. Everything got soaked and Shubham even dropped his ring (but somehow retrieved it from the mud). Through my foggy glasses I saw that small streams of water cropping up and flowing down. We couldn't see a single house for a long time but we kept going down. At a few places I slipped and rolled down with the help of the mud (don't ask what happened to the pant). Anyway, rolling was easier than hiking with tired legs.
Here I must mention that I was trekking after a long time following Pandemic breaks and personal tragedies. My muscle memory seemed to have been lost even when I started this trip. I wanted an easy hike to warm up and instead, I got one of the toughest days of my life.
Nevertheless, after a ghastly hour or so, we finally saw a sign of human habitation, a handpump. I used it to partially wash my muddy shoes. Everything was soaked by then and we were woefully unprepared. It was also getting cold. Anyway, finally we reached a village but we bypassed it to reach the road. The rain had stopped by then.
We had no clue where we were and if we will get a bus at all. Nevertheless, local village woman showed us another route so that we can get back where we started. By that time I was completely exhausted but there was no other option. After another 10 minutes we suddenly arrived at familiar territory, that plot of golden wheat of Jathani that we'd crossed earlier!
So, we quickly reached the ground of Bhalyani and had tea at a shop. We were told that the bus is coming soon and so we should move to the bus stand. However, Bhalyani turned out to be an extremely large village. We hadn't realised it because had arrived from an odd route. The village seemed never-ending and we began to wonder if we will get to the bus stop on time. On top of that we also took the wrong route and eventually reached the road, but a bit ahead of the bus stop.
Thankfully, amidst all the carnage, the bus was coming at the right moment. HRTC eventually saved the day as usual and we got seats too. The money we had was completely soaked. I dried the notes by dangling them from the window and managed to convince the conductor to take them. By that time it was almost dark and I was beginning to feel unwell. Anyway, somehow we reached Kullu and got home to the comforts of heater and Darjeeling tea. It took me another three days to recover from this but I think it was jolt my system needed because after that I could do the Othang Trek without any difficulty, as the muscle memory had returned completely.
Lug Valley Travel Guide
Lug Valley Location: Where and What is it?
Lug Valley is located in Kullu district. It's a secluded area that was once known for timber trade. There are many villages in the valley and the road goes from Kullu town.
It is one of the most beautiful areas, a detour from busy town of Kullu, full of fecund villages brimming with fruit orchards. Beyond the villages, there are many quick hikes to sacred shrines of local devis and devtas.
How to reach Lag Valley?
You'll get buses from Kullu bus stand. Buses leave for different villages of Lug such as Bhalyani. You'll have to ask around. Better if you reach the bus stand early. Otherwise, you can stand at the road head leading towards Lag Valley near Dhalpur ground.
Can one stay in Lag Valley?
This area has remained somewhat nontouristy by design and so stay options are limited. For villages you can make day trips from Kullu or Manali. For longer treks you'll have to camp anyway.
What are the treks in Lag Valley?
There are many small day hikes to villages and shrines like the Fungni Mata Temple in Mathasaur that we did. Apparently there was a bigger lake called Badasaur ahead but we didn't have time for that due to late start plus rains.
As far as bigger treks are concerned, there are two mid level passes for multi-day treks, Himri Pass connecting Kullu to Lag Valley and Bhubhu Pass connecting Lag Valley to Chuhar Valley (Barot Valley and around).
Phone and data connectivity in Lag Valley?
Connectivity should not be an issue in the villages.
What to keep in mind while in Lag Valley?
Do note that the villages still have strict codes of conduct unlike more touristy areas. Don't make noise, and don't carry leather items like belts and wallets (carry cash without wallet), to honor local deities.